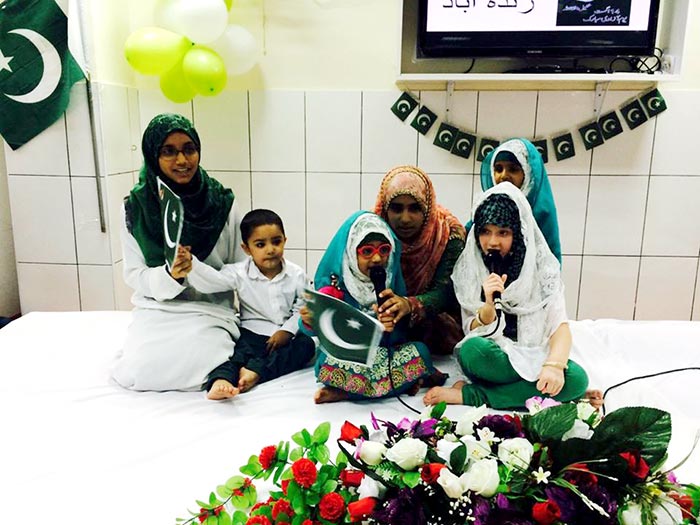 On 30th of August MWL Barcelona arranged a program to celebrate the Independence Day of Pakistan at MQI Centre.
The stage secretaries of the program were Sister Amina Rasheed and Sister Sanam who started the event by inviting Sister Laraib Asghar to commence the program with the recitation of the Irfan-ul-Qur'an. Later, Sister Asifa blessed the ceremony by reciting Naat-e-Rasool Saw.
To take the program forward, Minhaj Sister League entertained the audience by singing the national song. In the presence of Sister Amina Akram, the secretary of Sister League, children performed a play which was based on Allama Iqbal poem "Honey Bee (Shehed ki Makhi). The message of the tableau was about "seeking of knowledge". This tableau was really admired by the audience.
Sister League and Children League sang beautiful national songs to step up the emotions of audience. After that there was a quiz session for children, where they were asked basic questions about Pakistan.
After that, a short video clip of Shaykh-ul-Islam Dr. Muhammad Tahir-ul-Qadri was played to enlighten the hearts of audience. The clip was regarding the present conditions of Pakistan and how Minhaj-ul-Quran International is playing its influential role to change the corrupt system of Pakistan.
Sister Bushra Riaz, President MWL Spain, delivered a motivational talk regarding what our character should be like as being a Pakistani, whether we are in our country or we are in any foreign state. We all are the symbol and ambassador of our country.
The last segment of the program was Allama Iqbal's Dua "Lab pe aati he" which was sung by the Minhaj Sister League and to conclude the program the audience recited the National Anthem of Pakistan all together.