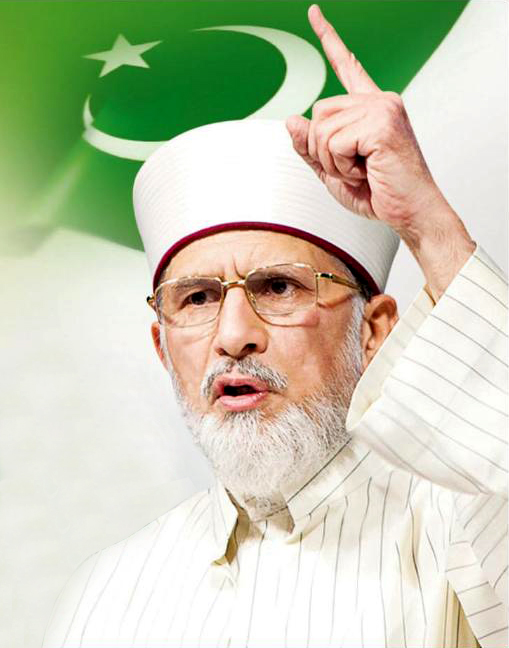 In his special message to the nation on the eve of Defence Day, PAT leader Dr Muhammad Tahir-ul-Qadri paid a glowing tribute to the men and officers of Pakistan's armed forces who laid down their lives for protection of the motherland in the face of Indian aggression on September 6. He said that by offering supreme sacrifice, they proved that they were true sons of soil who did not hesitate from any sacrifice to protect their country.
Dr Tahir-ul-Qadri said that threats posed to our national security at internal and external fronts are witness to the fact that as a nation, we did not protect Pakistan's ideological and intellectual borders. This resulted a great loss for our generations. He said that the violation of principles espoused by the Quaid-e-Azam was common and to top it all we were not even mindful of what we had lost.
Dr Tahir-ul-Qadri said that corrupt electoral system was eating into the vitals of state and society thereby eroding our sense of collective responsibility to work for making our territorial and ideological frontiers impregnable. He said that real defence of the country would be possible when people would launch a peaceful and democratic struggle against the current electoral system. He said that the people would have to become one nation for defence of the country's ideological, territorial and intellectual frontiers.
Dr Qadri said that it was tragic that the major powers were hiking up allocations to spy on our nuclear and defence systems while our political leadership was unaware of overriding responsibility at this juncture and busy in politicking. He said that a huge gulf had arisen between the people and their rights which explained the absence of national thinking and a unified perspective on challenges facing the state and society. He said that the day when people developed understanding of the Constitution from Article 1 to Article 40 would herald a new beginning towards stability and progress. He said that practical implementation of Articles 62, 63 and 218 was necessary for national solidarity and stability.
Dr Tahir-ul-Qadri underlined the need of electing honest, competent and credible leadership which would guarantee stabilization of national institutions and rule of law would hold sway. He said that if the nation wanted the Constitution to be supreme, it would have to practically struggle for this and understand its constitutional responsibilities.