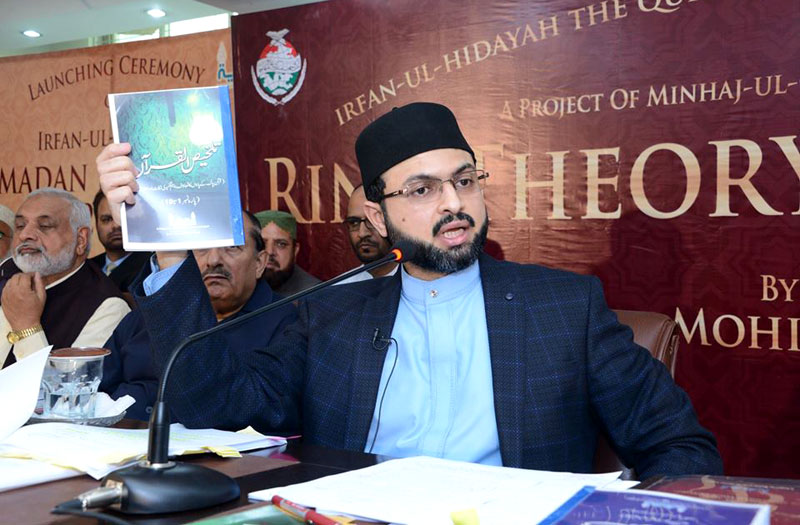 Alhamdullilah, Team Irfan-ul-Hidayah consisting of research developers, writers, and graphic designers have worked hard on curriculum and literature production and thus successfully developed a comprehensive and easily understandable curriculum based on vast dimensions of The Qur'an, Hadith, Fiqh & Arabic grammar.
On an event entitled "Launching ceremony of Irfan-ul-Hidayah" curriculum held on May 5, Chairman Supreme Council Dr Hassan Mohi-ud-Din Qadri introduced this curriculum to the public and for the students. In his speech, he said that Irfan-ul-Hidayah has provided exclusive educational services related to the learning of The Qur'an for the whole society.
Dr Hassan said that the focus of this curriculum will be two-fold: to understand the meanings and teachings of The Qur'an and to derive practical lessons and insights relevant to daily life – both ultimately with the purpose of increasing our connection with Allah (SWT) and furthering our spiritual development.
A brief introduction of books is mentioned below. Detailed books can be obtained from Irfan-ul-Hidayah office.
1. Talkhees-ul-Quran
This book entitled Talkhees-ul-Quran is based on a brief introduction of chapter of The Qur'an. Each Para is consisting of Para introduction, important Tafseer points & subjects mentioned in each Ayyah Mubarkah. This Ramadan Irfan-ul-Hidayah has introduced its first session (Para 1-10).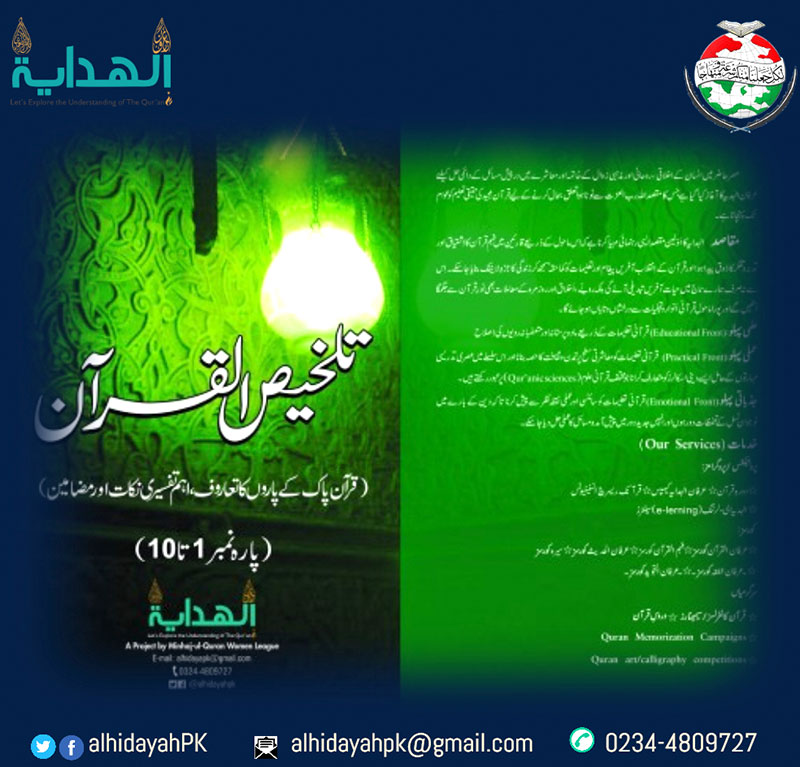 Fahm-e-Alfaze Quran:
Fehme Alfaz e Quran course, Allah (SaW) said that "He has revealed The Qur'an an most easy to understand. To make easy the sublime teachings of The Quran Irfan-ul-Hidayah has developed a book entitled: Fahme-e-Alfaze Quran
This book consists of 100 words and will cover most of the 40% words of The Qur'an.
Each word contains its root word, meaning in Urdu & English & related Quranic verse having this particular word, its Urdu & English translation.
This book will enable the readers to understand & translate the 40% words in The Qur'an.
This book will be an easy tool for children to grasp the meanings of Quranic words. It can also be used for schools as a part of their curriculum.
This book is for all those who are interested in learning and understanding the language of the Quran.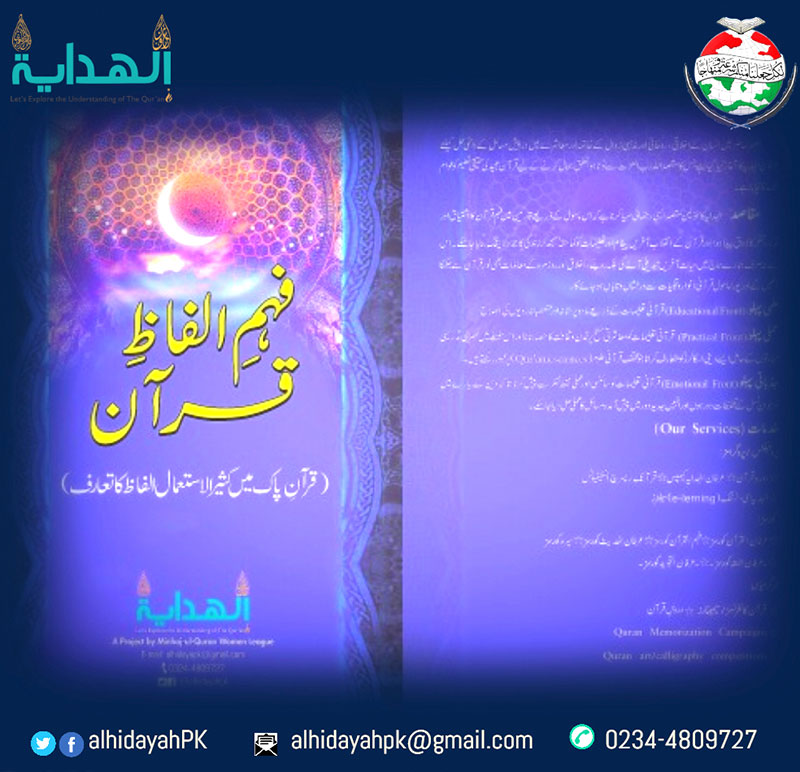 Zakhair-ul-Quran
This book provides an essential background information on each surah (or chapter) that gives the historical perspective of each chapter which will enable, us to understand the surah fully. A brief introduction of each Surah
Sura name, total ayah, other names of Sura.
Shan e Nazool
Important subjects mentioned in each Surah.
Important Tafseer points of each Surah.
This book is also an easy tool for children to understand The Qur'an. InshaAllah.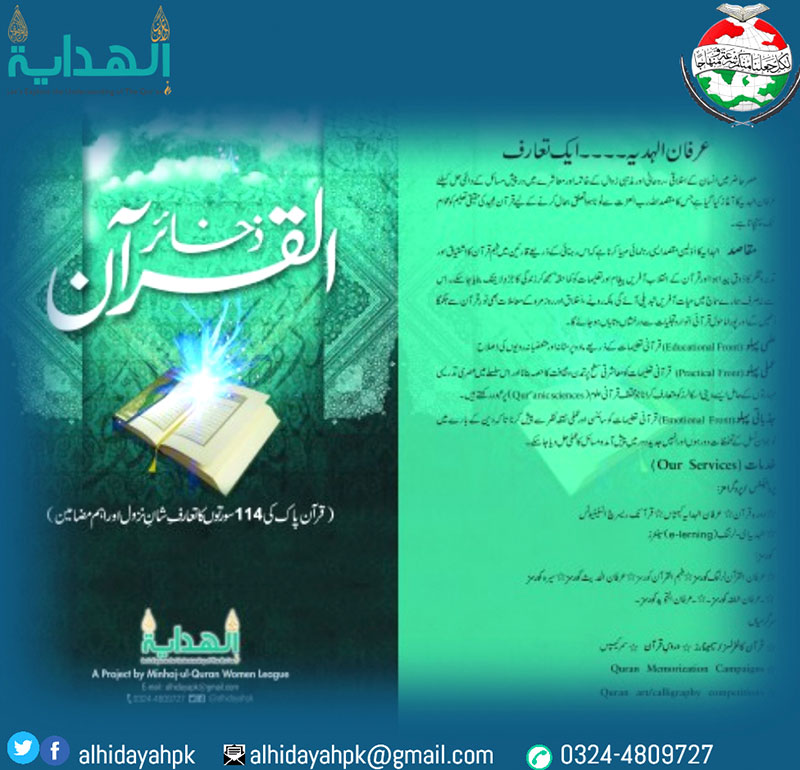 Guide book on: how to start Al-Hidayah in your area
A comprehensive book which is based on all basic guidelines, tools on how Irfan-ul-Hidayah can be initiated in an area. It also contain relevant forms, networking guidelines & some model class lectures for all Quran scholars & organizers.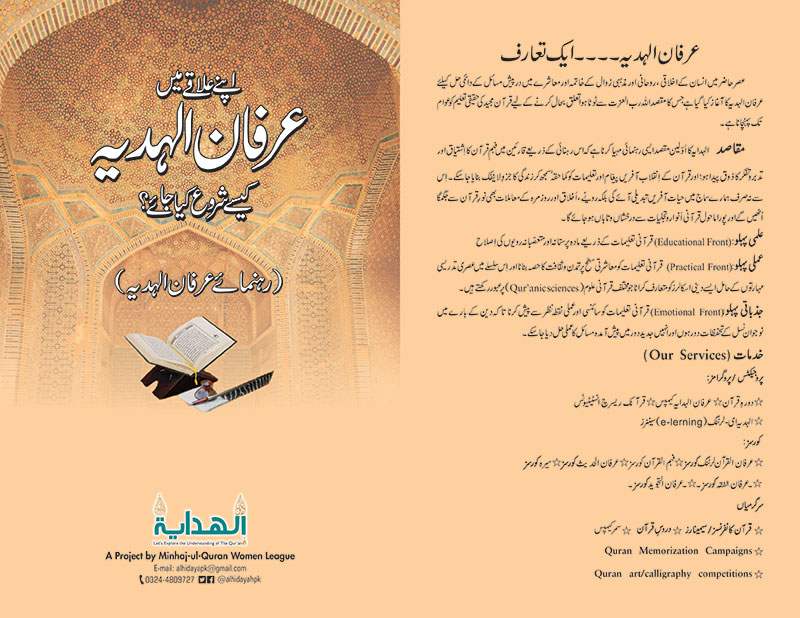 This book is based on lectures, guidelines, important tafseer points of Para-1, Hadith and Masnoon Douain. It will be a resource book for Quran scholars, daily lectures schedule, and word for word translation in English & Urdu will enable the students to better understand The Qur'an & Hadith. InShaAllah