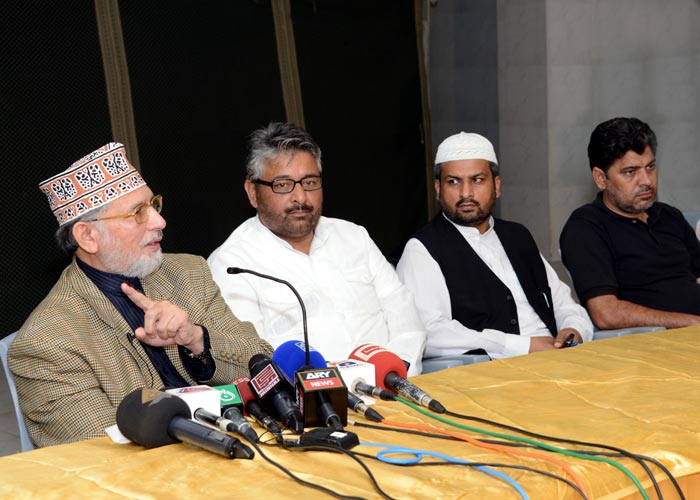 Dr Muhammad Tahir-ul-Qadri, leader of Pakistan Awami Tehreek, has said that the friends of Taliban will never allow the punishments to be implemented against them. Who will proceed against those with whose help elections were won? He said that Pakistan needs a leadership that has the courage to say No to the dictates of the biggest powers in the interest of Pakistan, adding that only such a leadership can take courageous steps who does not fear anyone except Allah Almighty. He said that the corrupt can never take bold steps. He said that the local bodies' elections are part of the same corrupt system which his party, Pakistan Awmai Tehreek, has already rejected. He said that the British established this system in 1850 to colonize the people and no good is expected to issue forth from it.
Dr Muhammad Tahir-ul-Qadri expressed these views while talking to journalists at a luncheon hosted by PAT Directorate of Media in their honour at the central secretariat in Model Town, Lahore today. Central Secretary Information Qazi Faiz-ul-Islam, Deputy Secretary Information Abdul Hafeez Chaudhry, Deputy Sectretary Punjab Mian Zahid Javed, Raja Zahid, Jawad Hamid, Farhat Hussain Shah and Sohail Ahmad Saddiqi were also present on the occasion.
Dr Muhammad Tahir-ul-Qadri said that change will not come by becoming part of the system. He said that those seeking to bring about change should reject this system in toto and struggle for its demolition. He said that when ten million people will be ready to launch a peaceful movement for change, no power would be able to stop them from achieving their destination and the forces of the status quo would flee. He said that time would soon come when people would forget about the mammoth public meeting on 23rd of December and Long March on January 14. He said that no one will breech discipline in his presence. He said that the sub-continent did not have people who could take to street on their own for change unlike revolutionary people in Libya, Egypt and France. He said that even if there is 100 per cent hike in the charges of electricity, the best people will do will be to burn a few tires on the roads and then return home, adding that a leader will have to come out to lead a revolution.
In reply to a question, Dr Qadri said that if those seeking to bring about change had joined Long March in January 2013, the situation would have been entirely different today. He said that there is no use of talking about the missed opportunity. He said that he never met MQM's chief Altaf Hussain. He only spoke to him by phone. He said that Mr. Hussain listens to CDs of his speeches and reads books written by him. He said that it is a moment of reflection that one gun toting man held the capital hostage and paralyzed the government for many hours on end. He said that media will have to realize its role for positive change in the country, adding that it can play the role of a leader for the nation. He stated that there is a lot that needs to be done.