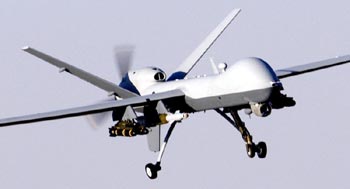 Secretary General of Minhaj-ul-Quran International, GM Malik, has said that the drone attacks are continuation of the Prime Minister's visit to the United States. He said that the recent statement of Sartaj Aziz, advisor to Prime Minister on foreign affairs and national security, was part of the same policy of double-speak and lies being pursued by the PML-N government stubbornly. He said that the fact of the matter was that drone attacks were being conducted with the connivance of the government. He said that the joint communiqué issued after the Prime Minister's meeting with President Obama said it clearly that there was no mention of word 'drone' during the meeting. He asked the political parties that participated in the all Parties Conference to hold the government accountable on this point.
MQI Secretary General expressed these views while addressing the Executive Council meeting of Pakistan Awami Tehreek yesterday. President of Punjab chapter of PAT Bashrat Aziz Jaspal, Fayyaz Warriach, Mian Zahid Javed, Sajid Mahmood Bhatti, Jawad Hamid, and Ch Afzal Gujjar were also present on the occasion.
GM Malik said that drone strikes were an attack on the country's sovereignty and territorial integrity but added in the same breath that what one could do when they were being conducted in agreement with the government of Pakistan. He said that national interest of the country did not figure on the priorities of the ruling elite, adding that the country's future was held hostage for the sake of perpetuation in power. He asked the people to join the caravan of Dr Tahir-ul-Qadri and pledge to work for change peacefully and democratically.