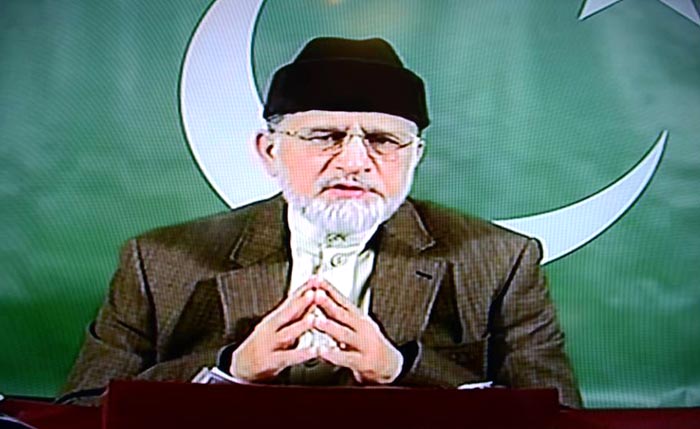 Pakistan Awami Tehreek leader Dr Muhammad Tahir-ul-Qadri has said that current electoral system is responsible for massive corruption, inflation, lawlessness, price hike and terrorism. He said that oppression and injustice committed against the people had its roots in the voting system that threw up the same breed of corrupt politicians into power again and again. He said that the system of elections was geared to protect and advance the interests of the privileged political elite that had been alternating each other in power during last 66 years. He said that the poor, traders, farmers, labourers and the downtrodden sections of society were the real affectees who got nothing out of so-called 'democratic transitions' except disappointment and more misery.
PAT leader made these remarks while addressing central working council of Pakistan Awami Tehreek (PAT) through a video link in Lahore the other day. Sheikh Zahid Fayyaz, Sajid Bhatti, Bashrat Jaspal, Irshad Tahir, Hafiz Ghulam Farid, and Ch Afzal Gujjar were also present at the occasion.
Dr Tahir-ul-Qadri said that we would choose friendly and pleasant weather for revolution and people and media would not have to face any worry on this count. He said that PAT's public awareness campaign continued with full swing aimed at awakening the people from slumber. He said that we were impressing upon the people to come out to get their rights as nobody would give them their rights if they kept on sitting at their homes and waiting for miracles to happen. He said that waging a peaceful struggle for fulfillment of their rights was one of their constitutionally guaranteed fundamental rights, adding that those 'adorning' the government, parliament and power corridors would not give them anything. He said that people were being prepared for final call of revolution under PAT's public awareness campaign. He said that we would give sufficient time to the government to deliver.
Dr Qadri said that his call for revolution would neither be sudden nor abrupt, adding that people would get sufficient time for preparation and the government would also have time as well as an opportunity to give people their constitutional rights and address the raging problems of the masses that had made their life hell. He said that he would not give any call for revolution if the rulers steered the country out of quagmire of terrorism, lawlessness and poverty and empowered the masses by giving them fundamental necessities of life. He said that he did not have any personal enmity with the rulers and politicians, further saying that his struggle was purely for the prosperity of the people.
Dr Tahir-ul-Qadri said that people's condition had not changed despite the fact that the ruling elite had been holding the rein of power for many decades on end in Punjab and Sindh in addition to the three terms at the federal government by both leading political parties. He said that rather situation went from bad to worse. He said that the ruling elite had been feeding people on empty rhetoric and false promises for last 40 years with no intention of fulfilling them. He said that revolution being championed by PAT would solve people's problems instantly. He said that following the revolution, the masses would see fundamental difference in the way they live their life. He said that the poor would be given all necessities of life including education, health, jobs, and shelter etc.
Dr Tahir-ul-Qadri said that none was above criticism, adding that he was not fearful of criticism. He, however, added in the same breath that criticism should be constructive and focused on the agenda. He said that slander, use of abusive language and character assassination should be deleted from politics. He said that difference of opinion should be expressed within civilized norms on the basis of logic and reasoning.