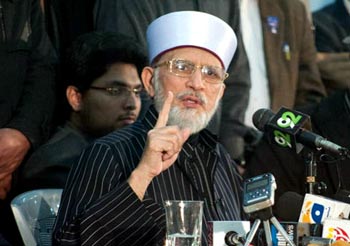 PAT leader Dr Muhammad Tahir-ul-Qadri has said that all national assets are at clearance and closing stage of loot sale called privatization. He said that Pakistan was not a personal property of any ruler or a politician nor was this country personal inheritance of anyone that its assets could be put on the loot sale as and when they 'pleased'. He said that all public sector enterprises belonged to 180 million people and the state, adding that revolution would follow if the process of committing a robbery did not stop. He said that the people would get power peacefully and cancel entire interest-driven privatization being undertaken now. He said that all national assets would be retrieved from the cronies, loyalists and favorites of the rulers and returned to the state. He said that fresh privatization would be carried out, if needed, strictly in accordance with the international norms aimed at ensuring transparency. He warned the sellers and buyers to be watchful as revolution was round the corner, adding that loot-sale would not be allowed.
Dr Tahir-ul-Qadri expressed these views while addressing a delegation of Awami Tajar Ittehad through video conference in the central secretariat yesterday. Haji Ishaq, Ghulam Farid, Sultan Chaudhry, Hafiz-ur-Rehman, raja Nadeem, Mahboob Ahmad and other traders were also present at the occasion.
He said that the present rulers had their eyes set on selling and buying national assets during their first stint in power from 1990 to 1993. He said that these people sold state entities as rulers and politicians and bought them as traders and business men. He said that they sold 40 public sector enterprises in 1991 which included Muslim Commercial Bank, Cement Factory, Oil refinery, Steel industry, and chemical plants. He said that ten of the units were the ones that were earning profit but they were still privatized.
Dr Qadri said that he wanted to tell the nation that public sector entities were doled out among the party loyalists, favourites, cronies and relatives in the past and the privatization was based on mega corruption and lack of transparency. He said that when they came into power again in 1997, they sold a dozen of state entities to their relatives and cronies for paltry sums of money, adding that such disregard for law and laid down procedure never happened in the world. He said that upon assuming office as a result of fake elections in May 2013, they were now selling the rest of state owned enterprises such as PIA, railways, and Steel Mills etc., adding that the state of Pakistan would be left with nothing after this bout of privatization. He said that the present government was too incompetent to give peace and stability to the nation.
Dr Muhammad Tahir-ul-Qadri said that the present rulers had set up a secret commission consisting of their family members, party workers and friends by discarding competent and honest people so that robbery could be committed in the dark of the night. He said that all assets were on the loot sale with clandestine deals being made. He said that he wanted to inform the nation that incompetent people were made in-charge of the privatization process. He said that the state institutions also needed to ponder over the state of affairs. He said that the country was being sold out and if we continued to be complacent, nothing would be left. He said that all of us had our identity because of this country, adding that if the country was there, we were also there and vice versa.
Commenting on the latest spate of terrorism, Dr Tahir-ul-Qadri said that the government did not have any credible policy to deal with terrorism. He said that a number of terrorist incidents that rocked the country in a span of a week showed in crystal clear terms that the government lacked intellectual resources to end the menace of terrorism. He said that façade of talks was being touted while the country was burning in the fire of terrorism.