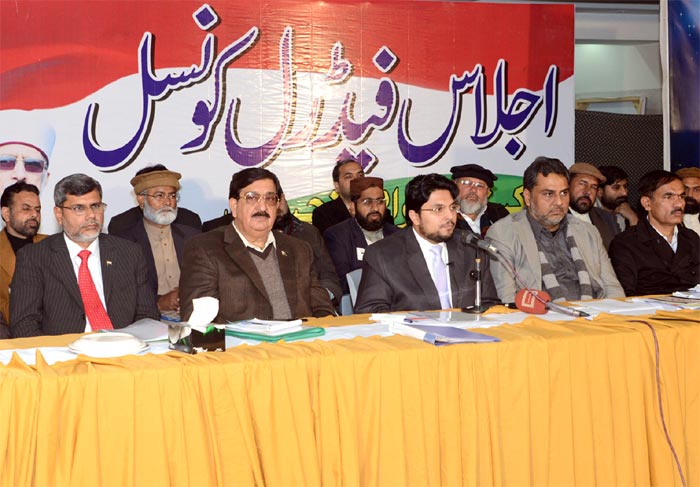 Dr Hussain Mohi-ud-Din Qadri, President of MQI's Federal Council, has said that green revolution is knocking on the doors of every Pakistani and every individual is duty bound to extend a helping hand to Dr Tahir-ul-Qadri in this important phase of struggle. He said that dialogue process currently underway between the Taliban and the government committees was an eye-wash and a cruel joke with the people of Pakistan, adding that the nation was being befooled and the 'reality' of these talks would be exposed in a month's time with the result that things would come back to square one.
He said that the so-called political leadership wanted to achieve a lot in the din of talks with the Taliban. He said that media had got the people stuck in these talks, which was more of a drama enacted to conduct clandestine privatization deals of the national assets. He said that even profit-making enterprises were put on the sale and the ruling elite wanted to secure the economic future of their generations for a hundred years.
Dr Hussain Mohi-ud-Din Qadri expressed these views while addressing a meeting of the Federal Council of the party. PAT President Sheikh Zahid Fayyaz, Secretary General Khurram Nawaz Gandapur, President of PAT Punjab chapter Bashrat Aziz Jaspal, Ahmad Nawaz Anjum, GM Malik, Sajid Mahmood Bhatti, Fayyaz Warriach, Qazi Faiz-ul-Islam and others were also present in the meeting. PAT office holders from Districts and Tehsils were also attended the meeting.
Dr Hussain Mohi-ud-Din Qadri warned both the buyers and sellers of the state-owned enterprises, saying that all privatized entities would be nationalized again after the revolution. He said that peace committees were powerless and did not carry any importance. They did not have any authority, clarity or mandate to move forward in the positive direction. He said that the state was a legitimate entity and all of its demands were justified constitutionally, legally and morally. He said that the non-state actors had been given an equal status in talks which had shamed the nation. He said that it was not justified for the state of Pakistan to accept the demands of those who killed fifty thousands of Pakistanis.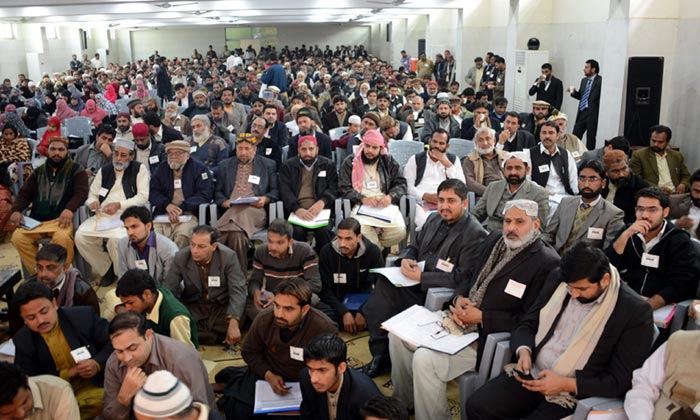 Dr Hussain said that at a time when dearness had rendered people's lives miserable, the ruling elite wanted to usurp assets of billions of rupees under the garb of talks. He said that people had been deprived of basic necessities of life and the energy crisis had affected their life in ways more than one while the rulers were busy filling their coffers through loot sale of state owned entities. He said that the government had failed completely and its writ was nowhere to be seen. He said that what to speak of a robust foreign policy, there was no foreign minister to provide leadership in sensitive matters. Dr Hussain Mohi-ud-Din Qadri said that the national economy was in dire straits, so much so that payment of tranches of loans had become a major problem for the government.
Addressing the meeting, PAT President Sheikh Zahid Fayyaz said that PAT would launch protest demonstrations from March against price hike, terrorism, and energy crisis. He said that it would be demonstration meant to awaken the people for revolution.
Speaking on the occasion, PAT Secretary General Khurram Nawaz Gandapur said that revolution was destiny of this nation under the leadership of Dr Muhammad Tahir-ul-Qadri. He said that people had stood up for their rights and the day was not far when the revolution would take place in the country. He said that Dr Qadri's vision would make Pakistan a respectable and leading country of Asia.
A resolution was also adopted at the occasion:
Terrorism was condemned in the strongest possible words and it was described as failure of the government.
So-called peace talks were branded as a meaningless exercise which was meant to hoodwink the people of Pakistan.
The worst load-shedding of gas, electricity and skyrocketing price hike was also condemned.