Dr Tahir-ul-Qadri visits one of the ancient libraries of Iran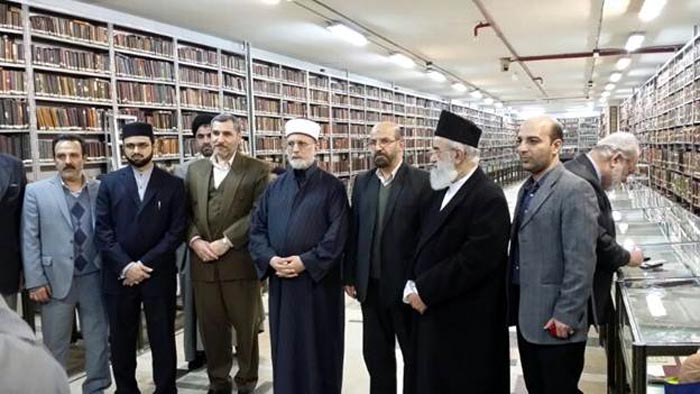 Pakistan Awami Tehreek leader Dr Muhammad Tahir-ul-Qadri visited Maktaba al-Mirashi along with his delegation, which is counted among the ancient libraries of the Islamic world. This library has a collection of more than 40,000 rare books. The library also has the honour of having 1300 year old copy of the holy Quran. Senior PAT leader Agha Murtaza Poya, Dr Hassan Mohi-ud-Din Qadri, and Dawood Mash'hadi were other members of the delegation accompanying Dr Qadri during his visit to Iran. Chief Executive of a chain of seminaries, Ayatollah Hashem Husseini Bushehri, also called on Dr Tahir-ul-Qadri. Mr. Hashim has a large network of religious seminaries and educational institutions located in Tehran, Mash'had, Sheraz and Qom.
Acknowledging Dr Tahir-ul-Qadri's contributions for promotion of peace, interfaith dialogue and harmony and services for revival of Islam, Mr. Hashem Husseini Bushehri described him as 'hidden treasure of Islamic world.' He requested Dr Tahir-ul-Qadri to deliver a lecture to his students which would be an honour for his educational institution. He also asked for provision of a complete set of 450 books authored by Dr Tahir-ul-Qadri to be placed in the library for benefit of students. Ayatullah Fida Hussain Abidi was also present at the occasion who recently completed his PhD. His thesis was 'Dr Tahir-ul-Qadri and his concept of Wilayat'.
Dr Tahir-ul-Qadri also visited Jamia-ul-Mustafa Alimya where 30,000 students from across the world got education and this institution had 50 departments. The head of the grand educational institution gave away a shield to Dr Tahir-ul-Qadri.