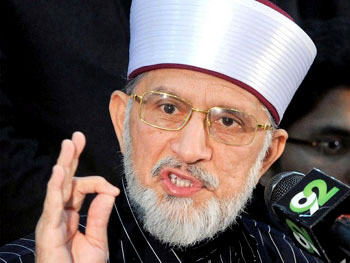 Pakistan Awami Tehreek leader Dr Muhammad Tahir-ul-Qadri has strongly condemned the suicide attacks on Islamabad District Court in which 11 people including the Additional District and Session Judge lost their life. In a statement, he said that terrorism was a threat to national security and became a matter of life and death for the nation with the passage of time. He said that the policy confusion among the government ranks had emboldened the terrorists who were exploiting the disunity and policy paralysis.
Dr Muhammad Tahir-ul-Qadri said that the government was still not clear as to how to go about eradicating terrorism despite loss of 50,000 lives including security personnel. He said that terrorism represented gangrenous part in the body politic of the nation and cure would only be found when this scourge of terrorism would be eliminated. He said that holding a dialogue with the terrorists was the waste of time as it would allow terrorists of all hues and colors an opportunity to regroup, re-arm and revise their strategy. He said that the entire nation stood by their armed forces in their fight against terrorism and valued their sacrifices in the highest esteem.
Dr Tahir-ul-Qadri prayed to Allah Almighty to rest the departed souls in peace and give patience to the bereaved families to bear the loss of their near and dear ones. Meanwhile, Dr Hassan Mohi-ud-Din Qadri, Dr Hussain Mohi-ud-Din Qadri, Sheikh Zahid Fayyaz and Khurram Nawaz Gandapur also condemned the terrorist attack in Islamabad District Courts and called for a military action to put an end to activities of terrorists.