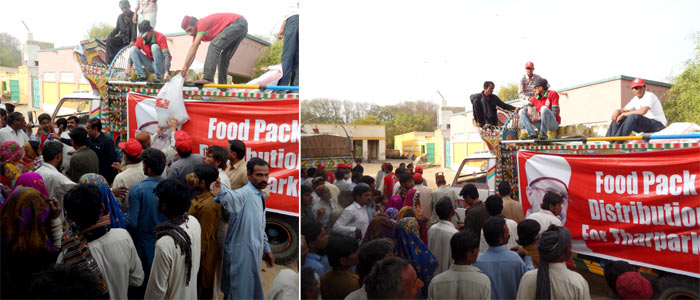 Director of Minhaj Welfare Foundation, Syed Amjad Ali Shah, has said that a number of areas of Thar are still hit by the worst drought. He said that 2600 villages of Mitthi, district headquarter of Tharparkar, have been among the most affected areas where thousands of people had been forced to migrate. He said that the crops had been destroyed, diseases were on the increase and hundreds of children died of malnutrition and drought. He said that thousands of families were walking for miles by foot to reach safer places to avoid drought and hunger.
He said that it was in these circumstances that Minhaj Welfare Foundation launched relief operations on emergency basis for rehabilitation of the affectees on the special instructions of Shaykh-ul-Islam Dr Muhammad Tahir-ul-Qadri. He said that MWF was committed to complete rehabilitation of the victims, adding that relief goods of worth Rs. 10 million had so far been dispatched in the affected areas.
Syed Amjad Ali Shah expressed these views on Friday while speaking to the heads of administrative committees at central secretariat that have been established to look after relief work in Thar. Ain-ul-Haq Baghdadi, Abdul Hafiz Chaudhry, Khurram Shahzad, Rafique Najam, Tanvir Ahmad and others were present at the occasion.
Director of MWF said that the project to set up makeshift settlements and medical camps in a phased manner in the most affected areas such as Nanger Parkar, Mitthi, and Islam Kot was under consideration. He said that the victims would be provided temporary shelter and medical treatment in these camps. He said that MWF would make arrangements for medicines, water, food and other facilities for the affectees.
Amjad Ali Shah said that the instructions were passed on to local chapters across Pakistan for rehabilitation of the Thar affectees, adding that MQI chapters had been asked to establish fund collection centres for the affected countrymen so that maximum support could be provided to the people who were in need of our help. He said that ten truckloads of relief goods had been dispatched in the first phase. He said that a number of NGOs including the armed forces were working for relief and rehabilitation of the victims but the scale of disaster was much higher and warranted more efforts to address the challenge. He appealed to the nation to come forward and contribute generously to this noble cause. He said that the people needed to demonstrate the same spirit they had expressed at the time of the worst floods in 2010.