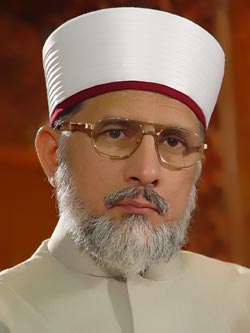 PAT leader Dr Muhammad Tahir-ul-Qadri has said that the holy month of Ramzan affords an opportunity for self-appraisal and it is binding on every Muslim to get hold of this opportunity and use it for his spiritual development.
In a message to the people of Pakistan and Muslims around the world on the advent of holy month of Ramzan, he said that fasting can be a great source of purification of heart provided all preconditions associated with it are fulfilled in an earnest manner. He said that going without food and water will not be enough unless the spirit of fasting is imbibed.
Dr Tahir-ul-Qadri said that striving to help the less privileged and downtrodden sections of society get out of poverty and economic backwardness is one of the lofty ideals of Ramzan. He said that the biggest tragedy facing the Muslim community around the world is that they are more beholden to form than substance, adding that failure to grasp the spirit of our great religion is at the heart of our multiple crises. He said that Islam ordains us to inculcate an attitude of brotherhood and help people out of their miseries.
Dr Qadri said that it is every Muslim's duty to make a vow and struggle for elimination of poverty, terrorism, extremism, hunger, destitution and lawlessness. He said that the holy month of Ramzan is important to understand Islamic concept of faith, benevolence and excellence of mannerism.