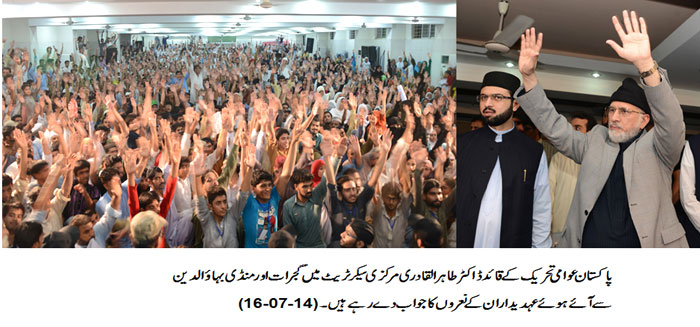 PAT leader Dr Tahir-ul-Qadri has said that the days of rulers in power having fake mandate have been numbered. He said that the destination of the protectors of corrupt system would not be Jaddah but jail on the day of revolution. He said that only time would tell whether a few thousands or millions of people would take to the streets on the day of revolution. How could a fake mandate be acceptable, he asked.
Dr Tahir-ul-Qadri stated this while addressing a consultative meeting with thousands of PAT workers from Gujrat and Mandi Bahauddin at the party's central secretariat. Dr Hassan Mohi-ud-Din Qadri, Raheeq Abbasi, Sheikh Zahid Fayyaz and others were also present at the occasion.
He said that the rulers had lost right to rule by suspending Articles 3-38 of the Constitution of Pakistan that dealt with the fundamental rights of the masses. He said that the rulers who protected the terrorists had compromised the national security, adding that had the military not decided to launch an operation, the handful of terrorists would have succeeded in overtaking the state. He said that the Prime Minister delayed the military operation for one year in the name of dialogue with the terrorists.
Dr Qadri said that the ruling elite has been making fun of the Constitution, further stating that call for establishment of supremacy of the Constitution and law would be coming soon. He said that the time of the so-called families trumpeting mantra of democracy had come near for going to jail. He added that the establishment of real democracy would be followed by ruthless accountability and reforms.
Dr Tahir-ul-Qadri said that power would be transferred to the people after revolution and those who filled their coffers with looted money would be made to answer for their plunder of state resources. He reiterated that no power of the world would be able to change the day of revolution after it was announced. He asked the people to wait for his call, adding that they should not stay in their homes after the call was given. 'They should join me to uproot this exploitative and unjust system,' he concluded.