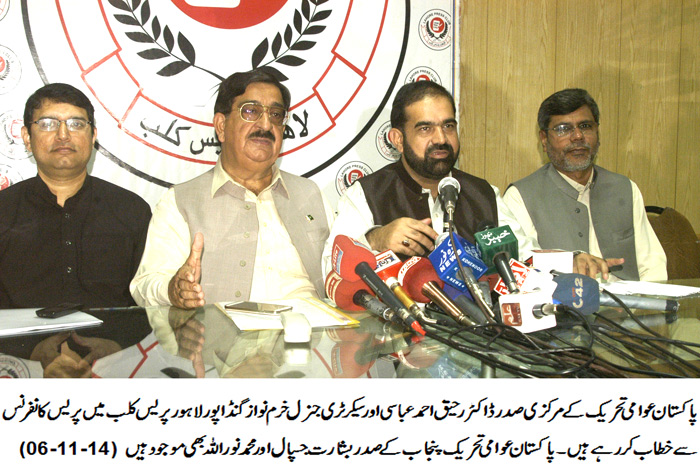 PAT President Dr Raheeq Ahmad Abbasi, Secretary General Khurram Nawaz Gandapur and PAT Punjab President Basharat Aziz Jaspal, in their press conference at the Lahore Press Club here today, condemned the brutal killing of a Christian couple in Kot Radha Kisan (Kasur) in the strongest possible words. They said that neither does Islam allow such brutality nor is there any space for this cruel act in the country's law and the Constitution. They expressed their no-confidence in the Joint Investigation Team (JIT) formed to investigate this incident, adding that judicial inquiry of this unfortunate incident should be conducted to ascertain the facts and bring the culprits to justice. They also demanded that inquiry report of one-man Model Town Judicial Tribunal should also be made public for all to read.
The PAT leaders said that a number of human tragedies took place during incumbency of Shahbaz Sharif as the Chief Minister of Punjab but none of the accused was arrested. They reminded that Gojra tragedy, Joseph Colony tragedy, Bahamani wala Kasur, and now Kot Radha Kisan tragedy all took place during rule of Shahbaz Sharif and these incidents badly affected the image of Pakistan in the outside. They said that recurring incidence of these horrible events meant that the Punjab government has failed miserably to secure life, honor and property of the citizens and now the people have no hope of improvement as long as these rulers are in power.
The PAT leaders took a strong exception to presence of Rana Sanaullah in a high-powered meeting held on law and order under the chairmanship of the Punjab Chief Minister the other day. They said that what else can be a greater instance of disregard for law than the fact that someone who was removed from his ministerial position due to his involvement in Model Town tragedy was seated beside the Chief Minister of Punjab?
Responding to queries of media men, the PAT leaders said that struggle for establishment of a national government, strict accountability, and reforms of Election Commission will continue to be waged. They asked the four provincial Chief Election Commissioners to step down from their positions after they failed to hold fair, free and transparent elections in 2013. They said that family autocracy has been named as democracy.
The PAT leadership sought withdrawal of all illegal cases against PAT workers and their immediate release from jails. They said that those police officials who tortured innocent workers will be held to account for their illegal actions. They also lambasted the government for its failure to pass on the relief to masses and termed the reduction in prices of POL products as merely an eyewash. They said that price hike remained on the upward trajectory as new drone in the form of raise in power tariff has been fired on the people of Pakistan. They asked the Prime Minister to return the money looted from electricity users in the shape of over-billing. They further said that carnage near Wagha exposed tall claims of Punjab government's good governance in the province.