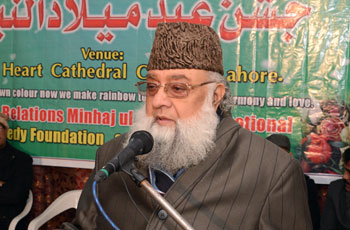 Faiz-ur-Rehman Durrani, central Amir of Minhaj-ul-Quran International, has said that it was as a result of Holy Prophet's (SAW) blessings that this universe came into being and its beauty and astonishments owe their existence to the blessed Prophet (SAW). He said that humanity's head has been upheld with pride thanks to his blessings and mercy for the mankind. He said that it is by acting upon the teachings and Sunna of the holy Prophet (SAW) that one can get rid of difficulties, sufferings, accidents, tragedies and crises.
Faiz-ur-Rehman Durrani expressed these views in his Friday sermon in central Mosque Minhaj-ul-Quran on January 23, 2015. He said that the humanity learnt the attributes of tolerance, love, peace, human brotherhood and moderation from the teachings and conduct of the Holy Prophet (SAW). He said that the Muslims established such high level of peaceful co-existence with other nations of the world based on respect that it is not easy to find a parallel example. He said that publication of sacrilegious sketches in France has hurt the feelings of the Muslims around the world.
Dubbing these caricatures to be inhuman and extremist act, the Amir of MQI said that this deserved to be condemned in the strongest possible words. He said that if such incidents were not stopped from happening, the world can be exposed to grave threats. He said that terrorists use such incidents to sell their narrative and such actions of the western extremists are helping them. He said that the international community will have to look at the seriousness of this most sensitive matter and take urgent measures to stop these incidents from happening again.