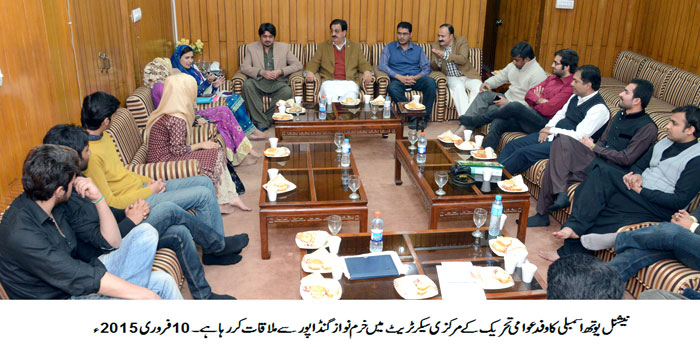 A 13-member delegation of National Youth Assembly led by Mudassar Shahbaz, Governor Youth Assembly, visited the central secretariat of Pakistan Awami Tehreek on February 10 and held a meeting with PAT Secretary General Khurram Nawaz Gandapur.
The PAT Secretary General, while talking to the delegation, said that 40 % of the students are getting free education in over 700 schools being run under the banner of Minhaj Welfare Foundation under the patronage of Dr Muhammad Tahir-ul-Qadri. He said that absolutely free medical facilities are being offered to poor patients in over 70 dispensaries and 4 big hospitals in the country. He said that the Foundation is working in the areas of education, health and general welfare. He said that in addition to financing mass marriage ceremonies across the country and taking care of orphan children in every rest respect in 'Orphan Care Home' (Aagosh), MWF is particularly focusing on installation of water treatment plants that are being set up in the country particular in Thar (Sindh).
The delegation also visited the office of Minhaj Welfare Foundation where they were briefed by Mudassar Baloch and Syed Amjad Shah, Director of MWF about various welfare projects being run under the banner of the Foundation.
PAT Youth Wing President Shoaib Tahir welcomed the members of the delegation in his office and termed youth assembly as a useful platform for training of the youth leadership. He said that the members of the youth assembly are prime ministers and chief ministers of future. He vowed that PAT Youth Wing would like to expand the struggle for elimination of terrorism and promotion of education in collaboration with the National Youth Assembly.
Speaking on the occasion, the members of the visiting delegation said that Dr Tahir-ul-Qadri's contributions in multiple fields are much more but their publicity is not sufficient to reflect their true size and nature. Mudassar Shahbaz, the head of the delegation, paid tributes to Dr Qadri for his scholarly work against terrorism and extremism, saying that he did what is even beyond the credit of any government. He said that PAT sit-in endowed people with the courage to stand up and speak against injustice and oppression. The delegation also visited central media cell, Gosh-a-durood, library hall and other offices.