Minhaj-ul-Quran International (Victoria) organized the 4th JASHNE Milad-un-Nabi (SAW) Conference at Preston Town Hall, Preston, Melbourne Australia on 7th of February 2015. The proceedings of the Conference (SAW) got underway with the recitation from the Holy Quran. Naat and Nasheeds were presented by MQI kids Nasheed group and Umati kids Nasheed group. Urdu and Persian Naats were recited by notable and well known Naat khawans including Syed Khaja Nizamuddin Qadri, Syed Rafiuddin Qadri, Jawwad Rizvi, Tariq Mansoor, Mohammad Ismail, Muhammed Osman. Arabic Nasheeds were recited by renowned Nasheed khawan Muhammad Abdul Aal from (Ahbab Al Habib Al Azam). Dr. Ishfaq Hussaini, and Yasser Farooq chisti were also present on the stage.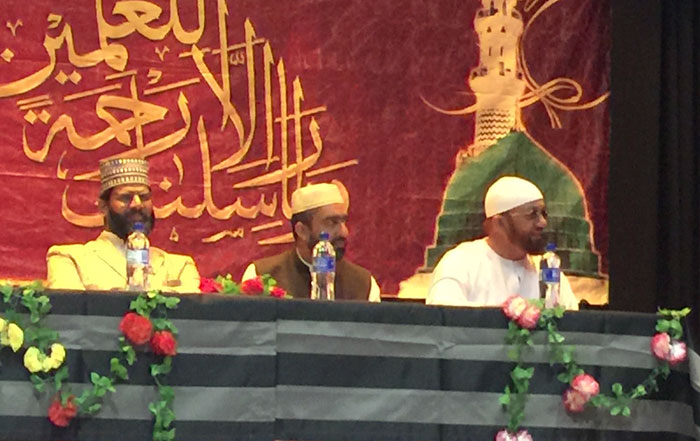 The keynote address of the Conference was delivered by Allama Shaykh Muhammad Ramzan Qadri. The erudite Allama quoted Quranic verses and Hadith during the address. In one of the Hadiths, Shaykh Ramzan Qadri informed that three types of people will not see the Face of the Holy Prophet (Peace and blessings be upon him) even in the paradise. Firstly the one who is disrespectful to one's Parents; secondly, he who is disrespectful to Sunnah of the Holy Prophet (Peace and blessings be upon him) and thirdly, he who hears the name of the Holy Prophet (SAW) is mentioned and he does not send greetings and salutations on the Holy Prophet (SAW).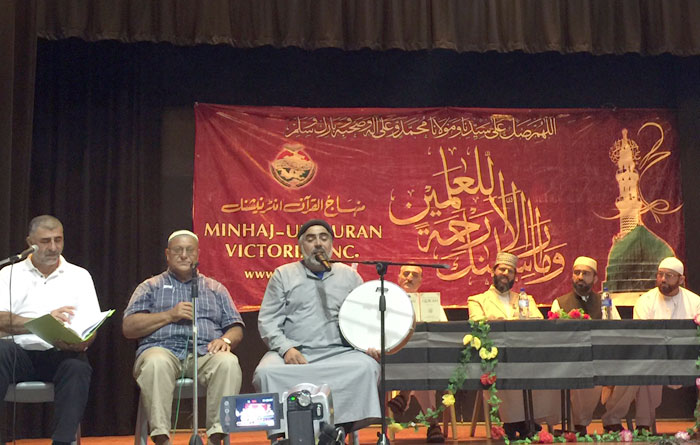 Shaykh Ramzan Qadri also informed the gathering about work of Minhaj-ul-Quran's work and peace promoting programs. He also spoke on the efforts, services and contributions of Dr Tahir- -ul-Qadri, the founder of Minhaj-ul-Quran International for promotion of peace, interfaith dialogue and harmony in the world. Farrukh Hussain, Project Director of Al Mustafa Mosque, gave the progress report of the Mosque project and contributions of individuals, businesses and Department of Multicultural Relations. During the program, life membership certificates and appreciation certificates were distributed on the occasion. Islamic quiz was also conducted for sisters and kids. The prizes were given to the winners.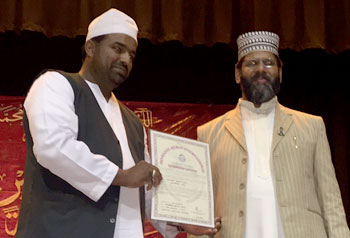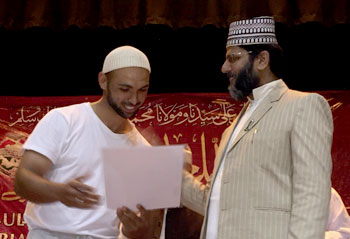 President Minhaj-ul-Quran Victoria Mukhtar Ahmed Khan delivered a vote of thanks. He thanked everyone for taking time out to attend the Milad Programme. More than 450 people belonging to various nationalities took part in the event. Dinner was served for all participants. Minhaj Book and DVDs stalls were set up at the entry gate. Stage Secretary Muhammad Furqan did an excellent job by conducting the Conference in a coordinated manner. A number of activities were also arranged for children such as face painting and balloon sculpting. It is pertinent to mention that Allama Ramzan Qadri holds a Master degree in Islamic Studies and is one of the few highly qualified scholars propagating and promoting traditional and peaceful Islam in Australia.
Reported by: Muhammed Fakhruddin Jamal