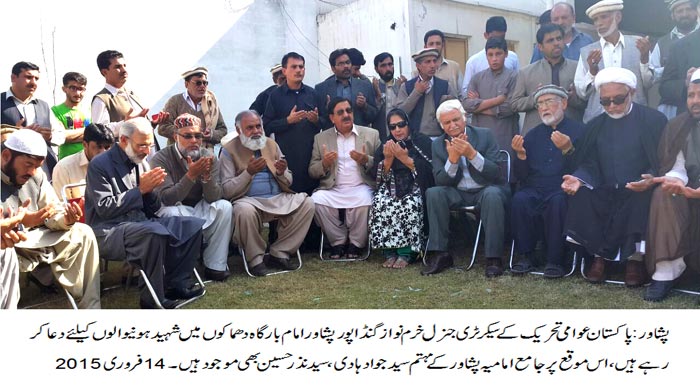 On the directions of PAT chief Dr Muhammad Tahir-ul-Qadri, a high-powered PAT delegation led by Secretary General Khurram Nawaz Gandapur visited Peshawar on February 14. The delegation held a meeting with the victims of Hayatabad tragedy and Syed Nadeem Hussain and Syed Jawad Hadi, patrons of Jamia Imamia. Khalid Durrani, Dr Bashir Gilani, Abul Jalil Tahir, and Sufi Abdul Latif were other members of the delegation who accompanied the PAT Secretary General.
Khurram Nawaz Gandapur and the members of his delegation offered funeral prayers in central Imambargah, Cantonment in Peshawar. Speaking on the occasion, he said that the Prime Minister should have visited Peshawar to express solidarity with the victims of the Hayatabad tragedy. He said that he is the Prime Minister of the whole country and it is his responsibility to mete out equal treatment to all regions of the country. He said that the PM did not even go to Shikarpar in the wake of tragedy there which has resulted in immense anger and annoyance among people in Peshawar and Shikarpur.
The PAT Secretary General said that Pakistan is in a state of war and it is the government's responsibility to secure life and property of people and eliminate the terrorists. He said that it is unfortunate that the government is not focused on its job at hand with the result that people are falling victims to unending wave of terrorism. Khurram Nawaz Gandapur would stay in Peshawar for two days.