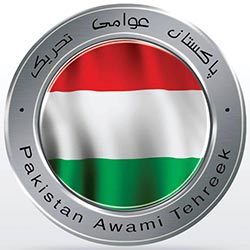 A spokesperson of Dr Muhammad Tahir-ul-Qadri has said that hurling of threats to those who unveiled report of judicial tribunal by the principal accused in the Model Town case is not only condemnable but also needs to be taken note of. He said that the Chief Minister of Punjab will not be able to retain his position after the report is officially released. He said that any politician or a journalist who demands publication of report on Model Town killings, these people start threatening him of dire consequences. He said that the terrorists involved in Model Town massacre do not have the courage to listen to truth.
The spokesperson further said that TV anchor Kamran Shahid has rightly pointed out that the judicial commission has held the Punjab government directly responsible for 14 martyrdoms but the report has been hushed up. He reminded that the Punjab Chief Minister had stated categorically before the nation while announcing the establishment of a judicial commission on evening of June 17, 2014 that if the commission, after inquiry, hinted at him, he would tender resignation from his position without any waste of time. The spokesperson said that it is not just the hint but the judicial tribunal has placed the entire blame squarely at him and his government. He said that the masterminds of the Model Town tragedy know full well that the day the report of Model Town judicial commission was published officially; the Chief Minister would have to go.
The spokesperson clarified that it was the Chief Minister Punjab who decided to get the police to fire at the peaceful PAT and MQI workers and these were Rana Sanaullah and Dr Tauqeer Shah who got his orders implemented. He made it clear that the blood of Model Town martyrs would not be forgiven at any cost. He said that if the rulers' conscience is clear and they think that they have no role, then why are they sitting on the report of judicial commission?
Meanwhile, a PAT spokesperson has said that the Punjab government is spreading this perception in a planned manner that the court of law has stayed the publication of judicial commission report on Model Town killings. He said that an honourable judge of Lahore High Court observed categorically yesterday did the government want to let the culprits go scot-free by not publishing the report? He said that the way the file containing report of attack on Dr Tahir-ul-Qadri was 'lost', there is a fear that the Model Town judicial tribunal report may be 'misplaced' in the same manner.