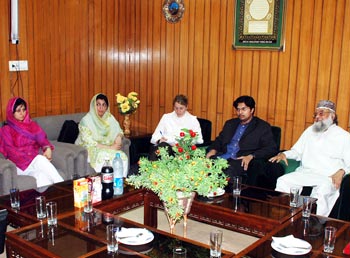 Four member delegation of British Foreign & Commonwealth Office consisting of Mian Azhar Ali, Liz Sleeman, Strategy Manager Preventing on Extremism Unit, Natasha Khan JP Urdu Spokesperson and Shaheen Taj visited various departments at the Headquarters of Minhaj-ul-Quran and met Sahibzada Hassan Mohi-ud-Din, member Supreme Council of Minhaj-ul-Quran International (MQI). The delegation was briefed by the Vice President MQI, Brig(R) Iqbal Ahmed on the educational, welfare, interfaith services of Minhaj-ul-Quran International. They were informed regarding the efforts of MQI for global peace and harmony in detail. The presentation expounded upon Shaykh-ul-Islam Dr. Muhammad Tahir-ul-Qadri's worldwide efforts for propagating Islam and uplifting the poor and the needy in society. During the briefing those present were the President of the Tehreek, Maskeen Faiz-ur-Rehman Durrani, Director Foreign Affairs GM Malik and some other leaders of MQI.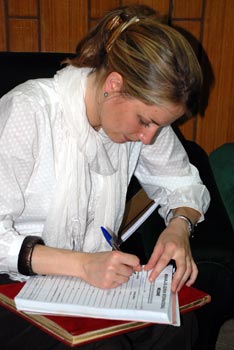 The delegation visited Minhaj University's component College of Sharia and Islamic Studies, Farid-e-Millat Research Institute, Minhaj Welfare Foundation, Minhaj Education Society and Directorate of Foreign Affairs. The group evinced  deep interest  in the Sale Centre of Minhaj-ul-Quran where they were shown hundred of books and thousands of lectures of Dr. Muhammad Tahir-ul-Qadri in the form of audio cassettes, CD's and DVD's. Their tour was further supplement with the briefing and presentation elucidating upon the organization and function of MQI.

The delegation exchanged views with the students of Minhaj University on various Islamic topics concluding that Islamic teachings are founded on peace, harmony and tolerance. The Minhaj-ul-Quran International, under the dynamic leadership of Dr. Muhammad Tahir-ul-Qadri, is busy with unveiling the true picture and philosophy of Islam. His efforts are bearing fruit as a large number of youth, under his influence, in European countries are playing a constructive role in the welfare of society. Dr. Muhammad Tahir-ul-Qadri's books and recorded lectures are spreading the Islamic message of peace. The scholars of Minhaj-ul-Quran around the world are rendering services as ambassadors of Peace and Islam.

The students also told the delegation that it is the age of dialogue and negotiations. And misunderstandings related to Islam can be corrected through dialogue. They asked guests for establishing permanent dialogue in Europe so that misunderstandings and gaps between East and the West can be bridged.