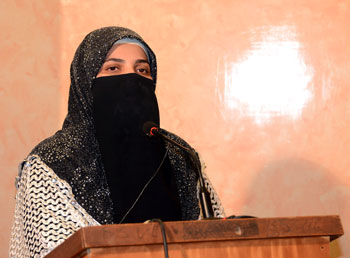 Farah Naz, President of Minhaj Women League, has said that after eating flour, electricity, gas, the lion has now got after educational institutions, teachers and PIA. She said that those who opposed the sit-ins actually strengthened the government, demanding that all such leaders should seek forgiveness of the nation over support the lion. She said that the rulers are filling their coffers and have got no interest in resolution of the public issues and their development works are a nuisance for the poor. She said that the people have become mental patient due to unending energy crisis.
Farah Naz expressed these views while addressing the executive committee meeting of MWL yesterday. Razia Naveed, Tahira Khan, Ayesha Shabbir, Gulsan Irshad, Afnan Babar, Zainab Arshad, Kalsoom Javed, Aneela Ilyas and other women office holders were present. She said that orang train and metro bus projects have displaced thousands of people, destroying their businesses and shops. She said that the poor are being punished for incompetence of the rulers. She said that the government is against Dr Tahir-ul-Qadri because he talks about rights of the poor. She said that we staged sit-in for restoration of rights of the people, adding that those who opposed sit-in were the enemies of the people.
MWL President said that had conspiracies not been hatched against sit-in, the destiny of the nation would have changed by now. She said that the incompetence of the government is known to all and sundry. She said that negligence of the health department is so serious that either it is dengue or swine flu rearing their head every now and then. She said that people remain deprived of education and health facilities, adding that as long as the rulers remain in power, the poor cannot get justice. She said that the system is responsible for the problems facing the people, which needs drastic change. She said that mega projects of the Punjab government are taking lives of the people, adding that dozens of people have lost their lives so far.
Farah Naz said that the government is making plans of privatizing education. She reminded that education is one of the fundamental rights and it is responsibility of the state to make arrangement for its provision. She said that the education department remains in tatters due to incompetence of the rulers. She warned that privatization of education will make it inaccessible to the poor. She said that education is on target after wheat, electricity and gas crises.