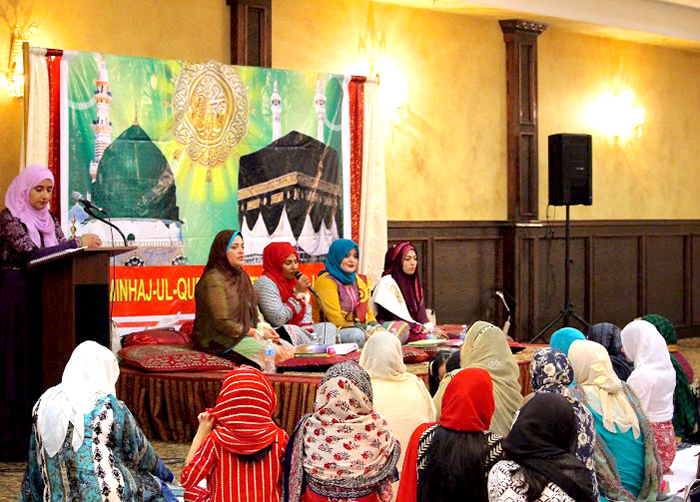 Alhamdulillah, a great annual Meelad-un-Nabi (saw) conference was organized by Minhaj-ul-Quran Women League (North Texas). The event took place on 31st January 2016 at Roma Palace, Garland, Texas, U.S.A. and Masha'Allah approximately 300 sisters attended.
The program began with a warm welcome for all those attending by Sister Shazia Amer who was the stage secretary for the event. Sister Sadia Shakeel did recitation beautifully from the Holy Quran in her melodious voice. This was followed by a Hamd by Sister Sadia Ahmad, and Naats by Sister Beenish Ikram and Saba Chaudhry.
The main guest was the famous Naat Khwan from Pakistan, Sister Javeria Saleem. Masha'Allah she recited Nasheeds in praise of the beloved Prophet (saw) that mesmerized the audience. Many more Naats were recited by her, upon the request of the audience.
The main speech was delivered by religious scholar Faiza Qadri, a graduate from the Minhaj University, Lahore, Pakistan. During her speech regarding the love of the Prophet (saw), she mentioned the importance of sending salawat and salam and that this is the most authentic and effective method of gaining nearness to him (saw). She also highlighted the various blessings that are associated with the blessed physical appearance of the beloved Prophet (saw). She also introduced some of the works of Shaykh-ul-Islam pertaining to the subject under discussion.
Speaking about the work of Minhaj-ul-Quran International, Sister Aisha Hussain highlighted some of the achievements of the organization worldwide. She also gave updates about the local activities of Minhaj-ul-Quran North Texas.
The event was concluded by a collective salam, followed by dua by sister Sadia Shakeel. A bookstall was organized by Sister Sabahat Faizi. The books of Shaykh-ul-Islam Dr Muhammad Tahir-ul-Qadri that had been mentioned in the main speech were keenly purchased by the attendees.
Masha'Allah the whole Minhaj team, who are long-standing life-members worked in close co-operation. Registration was by Parveen Mohsin and Mehreen Mohsin, Food distribution by Rehana Ahmed, who as usual showed her full commitment along with Saima Ali, Aysha Haider, Itrat Abbas and Parveen Mohsin. Photography was by Sana Mohsin and video recording by Rabeeya Shakeel.
Goodie bags were also distributed as Melad gifts for the children by Juveria Shakeel. Gifts of various books by Shaykh-ul-Islam were also given to guests.
The team received excellent feedback for a very well organized event and was especially appreciative of the emotional and educational lecture by the Minhaj scholar, Sister Faiza Qadri.