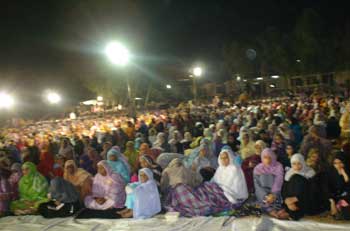 By the Grace of Allah Almighty & the blessings of His Beloved Prophet (S.A.W.). The 1ST day of sisters I'tiqaf successfully started with the planned routine of all the sisters of administration Minhaj-ul-Women League. Thousands of sisters reached in the early hours of morning. The sisters of the Security Committee checked their bags to ensure the security. After checking, the sisters of the allotment committee took them to their respective places.
Registration & Allotment
The process of registration continued till all the rooms were occupied. Urgent & temporary places were made for the huge influx of sisters. Brothers Tanveer Azam Sindhoo, Sajid Hameed, Toqeer Ahmad Awan & many more brothers helped to arrange places for the coming sisters. Alhamdolillah all the tents and temporary rooms were successfully arranged & the sisters were accommodated.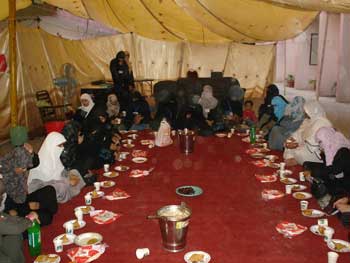 Sister Shazia Shaheen, Shameem Khan, Tahira Firdous, Zari Lateef, Irshad Iqbal, Salma Waheed, Naseem Gulzar, Usmana Shaheen & Irsa Khan put their endless efforts to accommodate the Mo'tkifaat. Sister Sajida Sadiq was an active member of the registration committee & maintained the record of all the registered Motakifats, students of Minhaj College & Administration members as well.
Record Breaking attendants
This year thousands of women have been registered at the I'tikaf camp 2008 from all over Pakistan & rest of world as well, breaking all the previous attendance records even coupon books printed came to an end. Minhaj-ul-Quran Women League, Pakistan have been working tirelessly throughout the year & the result of their endeavors has been truly magnificent with the thousands of women coming from far & near regions of Pakistan. Moreover all members of the central team have worked hard to ensure the arrangements are successful.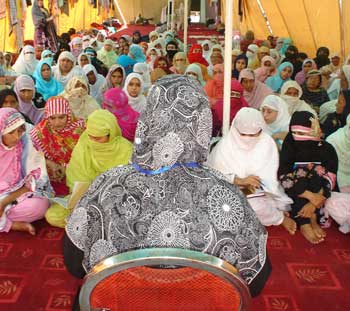 Head of I'tikaf Visited the I'tikaf Gah
Mrs. Saba Fatima Mash'hadi (President Women League, Head Women I'tikaf Camp) & Miss Sumera Rafaqat (Director Women League, Vice Head Women I'tikaf Camp) visited all the halls along with their team. As all the camp is divided into a very large areas of accommodation, administration teams visit each camp after very small intervals of time, when & where it is needed. But this team specifically visited each & every room to meet the sisters there directly to ensure they had no problems.
All the sisters, attendants of I'tikaf, were given iftar & then they gathered in the huge central conference area for Mehfil-e-Zikar-o-naat followed by salat-u-tasbeeh.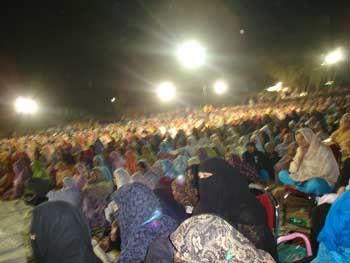 Sayyidi Hazoor Shaykh-ul-Islam Prof. Dr. Muhammad Tahir-ul-Qadri addressed the Mutakifat & gave them a briefing of I'tikaf. He delivered a very comprehensive, coherent & highly magnificent lecture on Manaqib-e-Ali (R.A.) which was unique in its nature & was highly appreciated by all the attendants.
See tomorrow's report for 2nd day of I'tikaf 2008
Reported by: Sadaf Iqbal