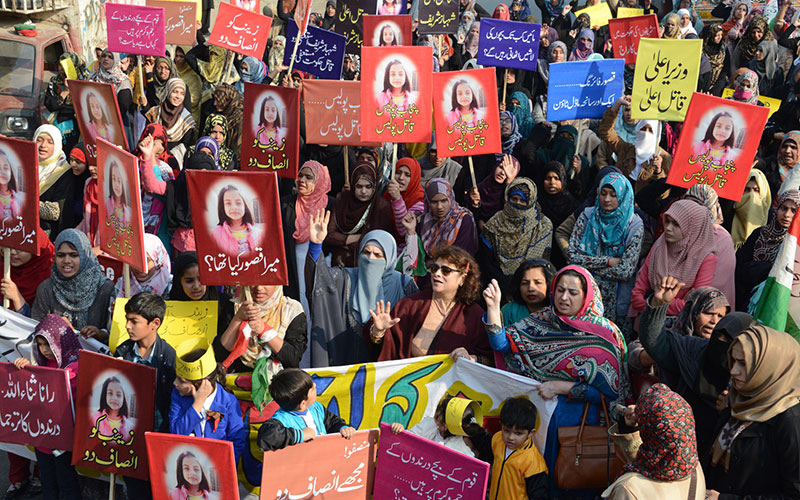 The women chapters of MQI and PAT got together before the Lahore Press Club to demand 'Justice for Zainab'. Addressing the protest demonstration, central president of MWL, Ms. Farah Naz, said that she has no words to describe the cruelty perpetrated on young Zainab. Issuing a fact sheet, she said that 16185 rape cases of women were registered during the incumbency of the present government, adding that the number of unregistered rape cases runs into well over 30,000. She said that 839 women, girls and children were killed after rapes. She said that with 14638 more cases compared to other provinces, Punjab has taken a lead in the crimes against women. She said that in the same way, the number of unregistered crimes against children is well over 20,000. She said that given prevalence of anti-children crimes, the rulers of Punjab say with stubbornness that such cases as Zainab's are not extraordinary and that such incidents have been happening for many year now.
Ms. Farah Naz said that if a law can be enacted overnight in favor of a disqualified person, why can a legislation not be passed to give exemplary punishments to the beasts who violate our children? He said that the Punjab Chief Minister has spent ten years in power with the high sounding slogans of apprehending those responsible for heinous crimes within 24 hours and now he is eying the top executive position of the country. She said that the destination of the abusers of the children and women is jails and heaviest of the punishments. She asked the Punjab Chief Minister, Law Minister and IGP to tender their resignations for their failure to arrest the abductor and killer of Zainab, adding that under which moral authority they are holding on to their positions.
A large number of women including children attended the demonstration. They were hold placards with slogans for justice for Zainab and against the government written on them. PML-Q MPAs Khadija Farooqi, Amna Ulfat, Kanwal Naseem, PTI MPAs Saadia Sohail Rana, MWM leader Huma Taqi, Hadiqa Batool and other women leaders were also present on the occasion.
PAT Women Wing leader Ms. Afnan Babar said that women, children and girls have faced the brutality during the Sharif government. She said that Model Town and Kasur tragedy are glaring examples of this anti-women mindset. Ms. Sana Waheed said that the police that fired live bullets on the protestors demanding justice in Kasur killed 14 innocent citizens including Shazia and Tanzila Shaheeds in Model Town in June 2014 and the oppressed have not been provided justice to date.
The Women League leaders announced on the occasion to engage with the civil society organizations, lawyers and women organizations to press for enactment of a law aimed at publicly hanging the beasts who abduct women/girls and abuse them sexually. They said that they would also seek help from the women parliamentarians in this regard.
Ms. Ayesha Mubashar, while speaking on the occasion, said that every mother is sacred of sending her daughter to school after the horrific Zainab incident. She said that it is unfortunate that the women are in great distress on the issue of protection of their loved ones in a country that was attained in the name of Islam.
She said that a 5-year old girl, Sumbal, was kidnapped in September 2013 and the Chief Minister also took notice of the incident and ordered the kidnapper to be arrested in 24 hours. She said that it has been close to five years that the accused remains at large. So much so that the investigation into the case has also been called off.
Ms. Ayesha said that it is the same CM who, while addressing the press conference on June 17, 2014, had stated before the nation that if the judicial commissioned raised a finger at him during its inquiry, he would leave his position within no time. She said that power is more important to the rulers and they have no moral, political, legal and democratic morality.