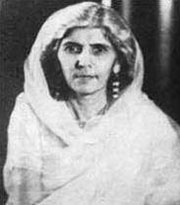 President Minhaj-ul-Quran Women League Mrs. Farah Naz has said that creation of awareness about the Pakistan movement was one of the biggest contributions of Madr-e-Millat Mohtarma Fatima Jinnah. She said that the movement that she launched on March 23, 1940 with regard to the rights of the women continued after the establishment of the new country. She is a role model for the women of Pakistan who was a personification of commitment, and devotion. May Allah grant her the highest place in paradise!
Ms. Farah Naz made these remarks while addressing a ceremony that Minhaj Women League arranged to mark the 125th birth anniversary of Mohtarma Fatima Jinnah at the central secretariat. Afnan Babar, Ayesha Mubashar, Zainab Arshad, and Umme Habiba Ismail also addressed the ceremony.
Ms. Farah Naz said that Mohtarma Fatima Jinnah was an heir apparent of her brother, the Quaid-e-Azam, in political sagacity. She dedicated her life in the service of her brother so that he could focus on the larger mission of creating a nation-state. She said that the nation acknowledged her vital role by giving her the title of the Mother of the Nation. She said that we as a nation owe our independence to the iconic people like Mohtarma Fatima Jinnah who sacrificed everything to get freedom. The sister of the Father of the Nation inspired women with her example and her services for the country will continue to remain unparalleled.
Ms. Farah Naz said that the PAT presents its tributes to Mohtarma Fatima Jinnah for her heroic role in the freedom struggle. Lubna Mushtaq, Mamoona Shifaat, Sana Waheed, Aimen Yousaf, Nazia Abdul Sattar and Kalsoom Tufail were also present on the occasion.