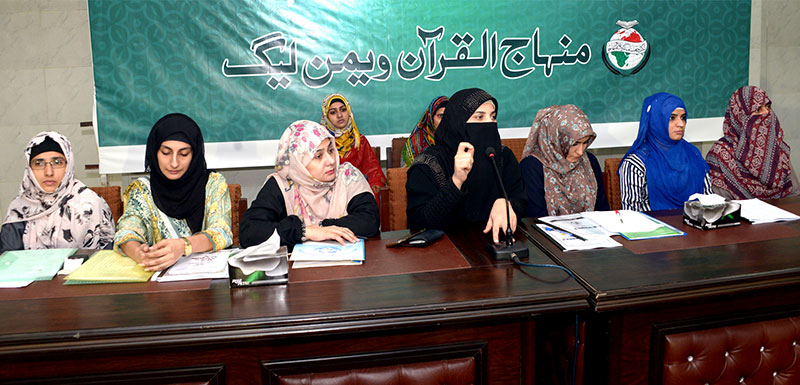 Minhaj-ul-Quran Women League arranged a memorial reference in the honour of Madr-e-Millat Mohtarma Fatima Jinnah at the central secretariat, which was attended by women belonging to all walks of life including the women workers in large number.
President MWL Ms. Farah Naz paid glowing tributes to Mohtarma Fatima Jinnah. She said that the Madr-e-Millat was a paragon of dedication and selflessness. She had a wonderful career as a dentist in Mumbai but closed her clinic in order to be with her brother and remained with him till his last breath of life. She was a great source of support for her brother. She said that there would hardly be such brothers and sisters who were so educated but sacrificed everything for the larger cause.
Ms. Afnan Babar said that Mohtarma Fatima Jinnah gathered the women of the sub-continent under the flag of the Muslim League and conveyed the message of freedom to every nook and corner of the country. She said that activating the women for freedom 100 years ago was no mean achievement at a time when Hindustan was ruled by the British with the full support of the Hindus but Mohtarma Fatima Jinnah pulled off this feat through dedication and commitment.
Expressing her views on the occasion, Ms. Ayesha Mubashar said that Fatima Jinnah infused the spirit of freedom through her personal example. She urged them to get education and forge unity in their ranks, stating these two principles are of utmost relevance even today for progress and stability.
Ms. Shakera Chaudhry, member of the social media working council, said on the occasion that on May 15, 1947, Mohtaram Fatima Jinnah delivered a speech in which she urged the women to focus on their education and get rid of ignorance. She said that despite passage of 70 years, the 65% women of Pakistan continue to remain illiterate. She said that this sorry situation has been created as a result of deviation from the path set out by the Quaid-e-Azam and Mohtarma Fatima Jinnah and the successive governments are responsible for this. She said that those who made hue and cry as to why they were expelled from office should also tell the nation why they did not spend national resources on education and training of women.
Expressing her tributes to Mohtarma Fatima Jinnah, Umme Habiba Ismail, said that after migration to Pakistan following independence, Fatima Jinnah set up a women relief committee and extended help to women. She mobilized the well-to-do women to come forward and share the burden of economically weak sisters. She continued to serve the motherland after the establishment of Pakistan. She joined Mrs. Sirojini Naidu in observing a week to demand the women kidnapped during the 1948 riots. She was a strong voice for women rights and as long as she remained alive, she kept reminding the nation of the golden words and sayings of the father of the nation.
Mrs. Zainab Arsahd also spoke on the occasion.