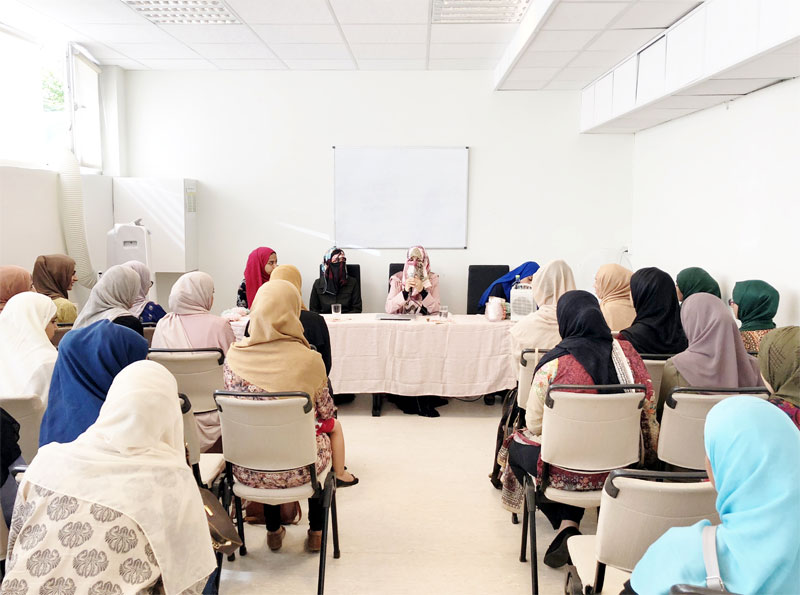 On the 4th August, Minhaj Sisters League Oslo (Norway) arranged an exclusive sitting with the respected Dr Ghazala Hassan Qadri and respected Basima Qadri. The invited guests comprised of the sisters who are working actively in one of the forums of Minhaj-ul-Quran Oslo and those who are affiliated with MQI.
The gathering was attended by the members of the Minhaj Sisters League from Buskerud (Norway). The proceedings of the sitting were initiated with recitation of the Holy Quran by Sister Amna Zafar, board member of Minhaj Sisters League Oslo, and then the Shayma nasheed group recited some verses of the Qasidah Burdah Shareef.
Before the keynote speech by Dr Ghazala each participant introduced himself/herself. Dr Ghazala's topic for the speech was to motivate the sisters in propagating the Deen. She informed the audience through examples taken from the Quran where Allah (swt) orders every human being to work for Islam. Dr Ghazala went on to advise the participants on the importance of time management and how one can take out time to work for Islam. Towards the end of the speech Dr Ghazala emphasised the role and uniqueness of Minhaj-ul-Quran International and prayed for each member to be steadfast in working for Islam.
The sitting was concluded with a dua. The Minhaj Sisters League Oslo (Norway) would like to thank respected Dr Ghazala Hassan Qadri and Basima Qadri for their beneficial advice and guidance, and for spending their time to meet with us.
Report prepared by Minhaj Sisters League Oslo (Norway)