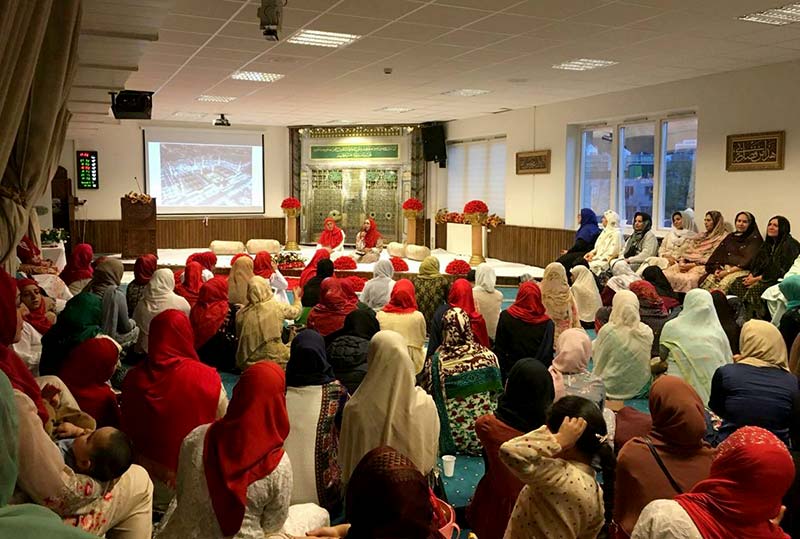 A special gathering of the women was held under the banner of MQI Norway in Oslo Centre in connection with welcoming the holy month of Rabi-ul-Awwal. A large number of women from around Oslo participated in the gathering. The message of Rabi-ul-Awwal was presented in a very beautiful manner. The local 'Minhaj Halqa-e-Durood' teams offered the greetings and salutations on the Holy Prophet (pbuh) in a touch manner and made the even a memorable one.
Ms. Samina Ishaq started the proceedings of the programme with the recitation of the Holy Quran followed by reading out of the translation of the Sura in Urdu and Norwegian languages by Ms. Salma Zafar and Ms. Sonia. Ms. Sadia Shahzad presented the welcome address. The junior team of halq-e-durood recited Naat in Arabic and Urdu languages in the form of groups. Ms. Noshaba, Ms. Saadia Asif, and Ms. Farah Naz also had the honour to recite Naats on the occasion.
Dr Nazia Batool, president of Halqa-e-Durood, gave an introduction of the forum and urged the participants to hold similar Durood gatherings in their homes. Ms. Ambreen Qureshi, President MWL Norway, and Ms. Khudija Qurat-ul-Ain, President Sisters League, apprised the participants about the activities of their forums.
Ms. Najama Tayyab threw light on the role and importance of Mosques in ordering our religious life. Ms. Robina Tariq presented the introduction of the speeches of Shaykh-ul-Islam Dr Muhammad Tahir-ul-Qadri. She emphasized the importance of staying connected to the religion in order to protect our faith in the present times.
A video clip from the speech of Shaykh-ul-Islam Dr Muhammad Tahir-ul-Qadri was also played on the occasion. The ceremony came to an end with collective offering of Durood.