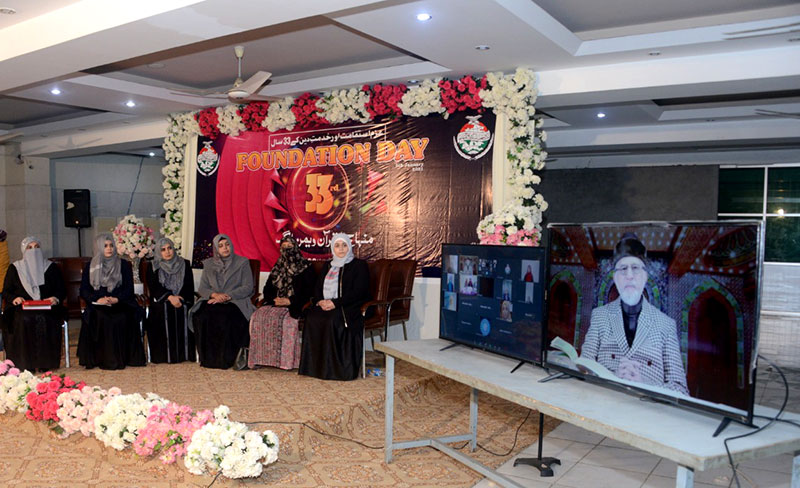 Addressing a ceremony held to celebrate the 33rd foundation day of Minhaj-ul-Quran Women League, Shaykh-ul-Islam Dr Muhammad Tahir-ul-Qadri has said that women should accept the challenge of making society literate, peaceful, and prosperous. He said that Allah Almighty has blessed them with enormous administrative qualities in addition to sincerity and dedication. He said that female education is the first building block on the path towards women's empowerment and fulfillment of rights. He urged the parents to give special attention to the education of their daughters, as it is the best investment not only in this world but also in the hereafter.
Dr Tahir-ul-Qadri paid rich tributes to the Women League on their services to impart education and spiritual and moral training to women and children in the country. He also congratulated Dr Ghazala Hassan Qadri, president of MWL International, and Mrs. Farah Naz, president of MWL Pakistan, and their teams for the incredible work they have been doing. He said that thousands of families have benefitted from the educational, spiritual, and religious services of MWL. He said he was greatly pleased with the initiation of successful projects of Eagers, Voice, and Al-Hidayah, stating that the credit for their phenomenal success goes to the officeholders who put in their best efforts. He further said that whenever any reformative agenda was given for the solutions of problems facing different walks of life, women always took the lead and remained at the forefront of such endeavors.
Brig (r) Iqbal Ahmad Khan, Khurram Nawaz Gandapur, Mrs. Farah Naz, Sidra Karamat, Dr Maya Naz from the US, Sara Amina from Australia and Fozia Shafique, Nasreen Akhtar from the UK, and Dr Bushra Riaz from Europe also addressed the ceremony and presented the reports of the services undertaken at the MQI's platform. The office-bearers from Australia, France, Holland, Norway, South Korea, Japan, and the EU also attended the ceremony online. Umme Habiba Ismail, Ayesha Mubashir, Anila Ilyas Dogar from Pakistan also shared their views with the audience. This foundation day ceremony was held online in view of the ongoing Corona pandemic.
In her speech on the occasion, central MWL President Mrs. Farah Naz said that MWL has particularly focused on children and women in terms of promoting peace, character building, and raising awareness. She said that our ideal is that every daughter of Pakistan gets top-class education and is aware of her Islamic, national, religious, and domestic responsibilities at the same time.
Dr Ghazala Hassan Qadri, President of MWL International, also congratulated the leaders and workers of Minhaj-ul-Quran Women League on the organization's 33rd foundation day.