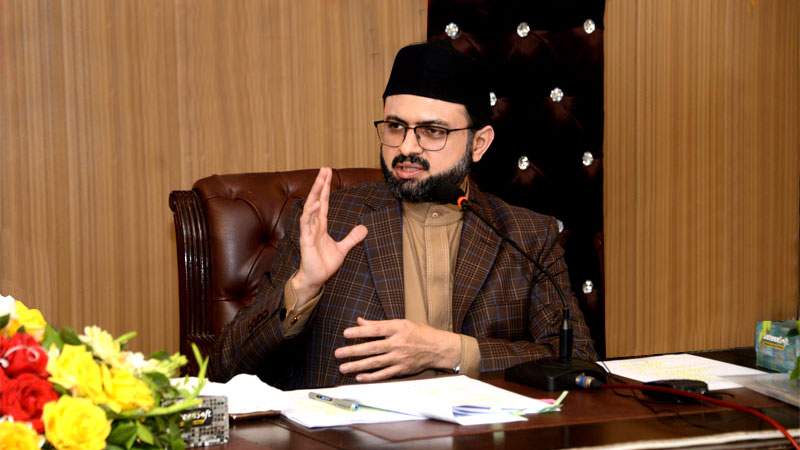 Speaking at the central secretariat on the occasion of International Women's Day, Chairman MQI Supreme Council Dr Hassan Mohi-ud-Din Qadri has said that Islam is a revolutionary code of life that rid humanity of every kind of slavery and bias; and gave women freedom in every walk of life such as education, trade, and economy. He said that Islam is the only code of conduct that provided economic and social protection to women and ensured their rights by making them shareholders in inheritance as well as through the sacred institution of marriage.
Dr Hassan Mohi-ud-Din Qadri asked those who are promoting the misleading thought of "my body, my will" to study the lives of the mothers of the believers, and the female leaders that played their political role during the freedom struggle. He said there is a difference between the concept of freedom and aimless freedom, adding that no society can become peaceful and civilized without complying with the requirements of morality, piety, and values. He reminded that Hazrat Khadija al-Kubra (R.A.), the revered wife of the Holy Prophet (SAW), was a successful tradeswoman. He said when the girls were buried alive upon birth, our beloved Prophet (SAW) taught about the educational, political, social, and economic role of women.
Dr Hassan Mohi-ud-Din Qadri said that some people with a skewed understanding of gender rights are spending their energies on making women insecure in the name of women's emancipation and rights. He said that Islam has clearly given every kind of freedom and protection to women but also described a set of instructions in their interest. He said that Allah Almighty has mentioned teachings in the Holy Book for the dignity and protection of women, the foremost of which is the protection of chastity. He said that the best way to make it happen is to keep one's eyes lowered and save them from sins.
Chairman MQI Supreme Council said that looking attractive and beautiful is natural, a feeling ingrained in human nature. He said that Islam has set a boundary on beautification and make-up and one's well-being and protection are better served by not contravening the prescribed limit. He said that the Holy Quran has described such women who guard their sight as believers, for the door to every vice goes through eyes. He said that veil and chastity are a real beauty, stating that those who think that Islam is a religion of constraints are unaware of Islamic teachings and the wisdom behind them.