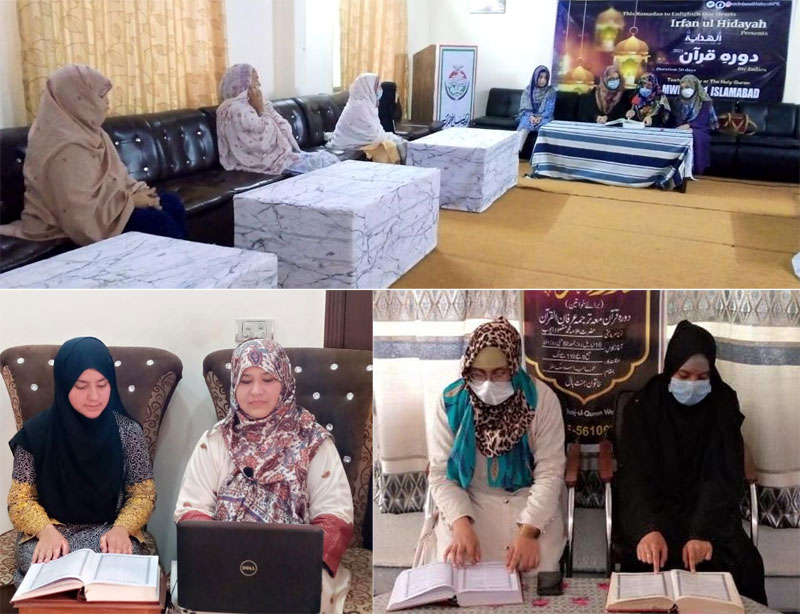 Irfan-ul-Hidayah department of Minhaj-ul-Quran Women League held 30-day "Dawrah-e-Quran 2021" sessions across Pakistan. The prime purpose of this project was to inculcate the true teachings and message of the Holy Quran among people and to reconnect our souls with the Divine teachings and love of Allah Almighty.
The curriculum was based on the textual study of Irfan-ul-Quran.
The countrywide "Dawrah-e-Quran" sessions were held in around 115 cities of Pakistan, which were joined by hundreds of females, both young and old. These also included online sessions due to the prevailing lockdown situation.
The 27th Ramadan-ul-Mubarak is the day of the Revelation of Holy Qur'an, hence Irfan-ul-Hidayah department conducted online "Majalis-ul-Quran" all over Pakistan and formally concluded "Dawrah-e-Quran" in these closing ceremonies. Participants shared their views about how beautiful their journey was during the duration of the session.
Irfan-ul-Hidayah department congratulates all the teams and the Quran scholars that have spent days and nights in offering special prayers and supplications to seek proximity of Allah Almighty and made these Dawrah-e-Quran 2021 sessions successful. May Allah SWT accept the efforts and grant everyone the blessings of the Holy Quran.