President MWL International Dr Ghazala Hassan Qadri addressed the 34th foundation-day ceremony of Minhaj-ul-Quran Women League held at Suffa Hall at the MQI central secretariat in Lahore. While talking to the audience, she congratulated the team, members, workers and affiliates of Minhaj-ul-Quran Women League International on the auspicious occasion of its foundation day. She extended her prayers and best wishes for its working and progress in the future as well. She also appreciated the social media campaign of honouring the senior members of MWL for their contributions.
"The foundation of Minhaj-ul-Quran International was laid at a time when the world was deprived of moral, ethical, religious and spiritual values and norms. This movement set a whole new path for the revival of these foregone values of Islamic culture", Dr Ghazala said.
Continuing her talk, President of MWL International said that Shaykh-ul-Islam knew that the collective revival was not possible without including women of society in the movement. So, he founded Minhaj-ul-Quran Women League to give a representative forum to women. Minhaj-ul-Quran Women League, she said, has catered to women of both extremes, and set a balance to settle the divide between secular and religious entities.
Towards the end of her speech, Dr Ghazala Hassan Qadri gave a very important message to women, stating that the purpose of a woman's life is not only the management of home chores and responsibilities of a family but she has also to play an equal role in the development of a society and nation. "She has a responsibility towards Ummah as well", she opined. While quoting examples from the lives of great women of Islamic history, she said that we must seek inspiration from their dynamic roles and valuable services they rendered and mould our lives accordingly.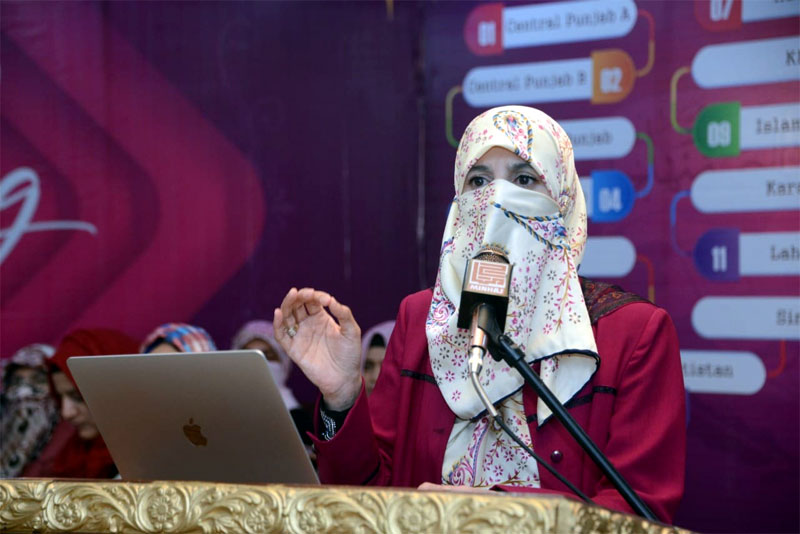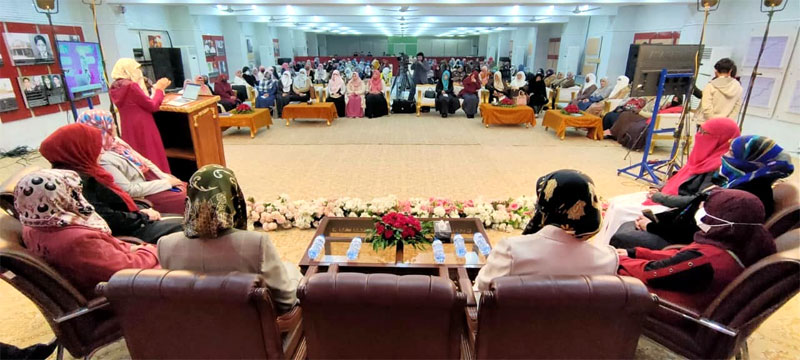 President MWL/MSL Europe Dr. Bushra Riaz spoke at the event and said that the vision and ideology of Shaykh-ul-Islam Dr. Muhammad Tahir-ul-Qadri is so versatile and dynamic that it covers and addresses the needs and requirements of modern times. His vision, she said, not only enlightens our hearts and souls but always inspires people of other faiths and religions.
Dr Bushra Riaz said that it's a blessing that through Minhaj-ul-Quran, Shaykh-ul-Islam has given a comprehensive set of guideline for our children, grown-ups and our lives in every respect. Upon her arrival at the premises, Dr. Bushra was warmly welcomed by MWL Pakistan central team on joining the event.
President MWL Pakistan Dr. Farah Naz, while speaking on the occasion, announced honorary shields for Mrs. Irshad Iqbal, Mrs. Kulsoom Tufail, Mrs. Ayesha Mubashir and Mrs. Anila Ilyas for their unshakable commitment, efforts, consistency and dedication with the Mustafavi mission. She said that every member of the team has contributed in a unique way but the reason these four sisters are selected for this prestigious award is their exceptional sacrifice for the cause. They were awarded these shields by Dr. Ghazala Qadri and Mrs. Fizzah Hussain Qadri.
Continuing further, Dr. Farah shared a beautiful message for all the sisters of this mission and said that our purpose and reward for every effort must be the 'Ziayarah' and pleasure of Allah Almighty and being a Mo'min, we must not hold worldly desires and expectations while sacrificing our time, wealth and contributions for the Deen of Islam. She greatly appreciated Nazima MWL Pakistan Sidra Karamat for her relentless contributions and dedicated efforts for the noble mission.