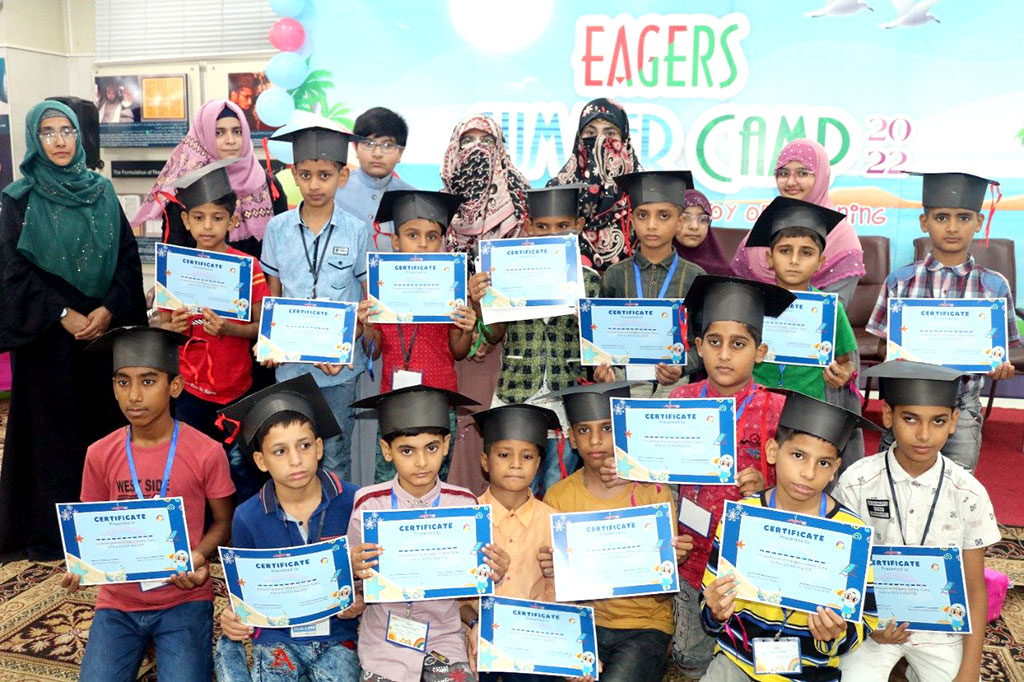 Summer camps are aimed at grooming children: Mrs. Fizzah Hussain Qadri
Mrs. Fizzah Hussain Qadri attended the graduation ceremony of Eagers Summer Camp 2022 along with Ms. Durrah tul Zahra, Ms. Sukayna Hussain Qadri, Hamid Mustafa al-Qadri and Ms. Marwa Hussain Qadri. She met and interacted with the participating kids and appreciated their active participation in the camp.
Mrs. Fizzah Qadri also presented certificates to the kids who completed the due requirements of the camp. The parents of the kids shared very appreciative comments and feedback about their experience of letting their children participate in the camp which focused on their spiritual, ethical, physical and many other aspects in a very creative and lively manner.
Some of the parents also commended the cooperation of the management team throughout the course and showed their intention to continue liaising with Eager's activities in future as well.
Speaking on the occasion, Mrs. Fizzah Hussain Qadri threw light on the aims and objectives of the Summer Camp. She said that these events are periodically held to encourage children to groom their minds and bodies. She said that the topics for the camps are carefully chosen and attendant activities arranged keeping in view the requirements of the children. She said that the children who participate in these programs go back with a lot of knowledge and information. She appreciated the management for holding the Camp in a flawless manner.