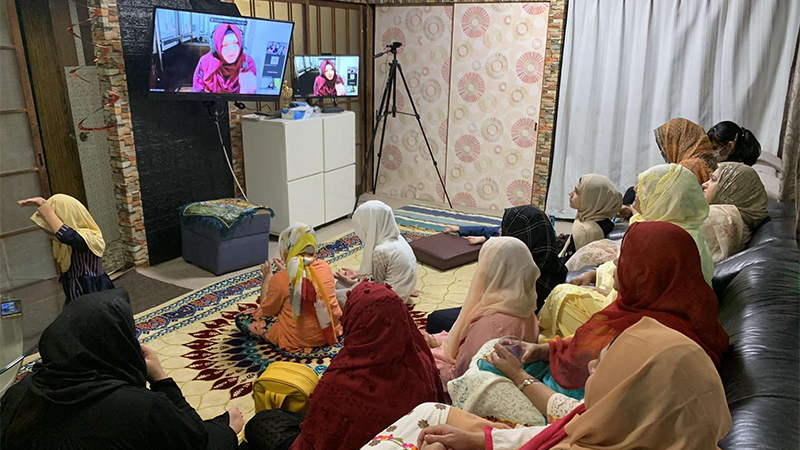 On 28 May, 2023, a significant event, the female gathering in the very 1st Halqa Durood-o-Fikr, was organized by Minhaj-ul-Quran Women League, Japan at Gunma Center Japan. The event aimed to provide a platform for women to come together, engage in religious activities, and promote unity among the female members of the community. The proceedings commenced with a beautiful recitation of the Holy Quran by Hamna Waseem and Hafiza Ishrat Fatima, followed by soul-stirring naats recited by Zainab Baji, Ayesha Baji and Hafiza Ishrat Fatima, who mesmerized the audience with their melodious voices.
Sister Hajra Qutab Awan, the zonal Nazima of Minhaj-ul-Quran Women League, delivered an enlightening speech on the Ma'rifat (knowledge and understanding) of the Prophet Muhammad (peace be upon him). She eloquently highlighted the Prophet's (PBUH) exemplary character, teachings, and his role as a mercy to the whole of humanity. Her speech was informative and inspirational, and left the audience with a deep appreciation for his blessed life and message.
Afterwards, sister Hajra Qutab Awan concluded her speech with a heartfelt dua (supplication), invoking blessings upon the gathering and seeking Allah's guidance and mercy for all attendees.
The entire session was skillfully conducted by Hafiza Ishrat Fatima, the convener of Minhaj-ul-Quran Women League, Japan. Her leadership ensured the smooth organization and execution of the event, allowing the attendees to fully immerse themselves in the spiritual experience. Hafiza Ishrat Fatima's dedication and commitment to empowering women and fostering unity within the community was evident throughout the gathering.
The event was a resounding success, thanks to the efforts of the organizers especially Ali Imran, President Minhaj Asian Council, and the enthusiastic participation of the attendees. It served as a reminder of the importance of women's involvement in religious activities and their capacity to contribute positively to their communities.
The success of this inaugural gathering has laid a strong foundation for the similar events in the future, fostering unity, spirituality, and empowerment among women in the community. It is hoped that such gatherings will continue to inspire and uplift the female members of the community, enabling them to become a force for positive change and active participants in society.