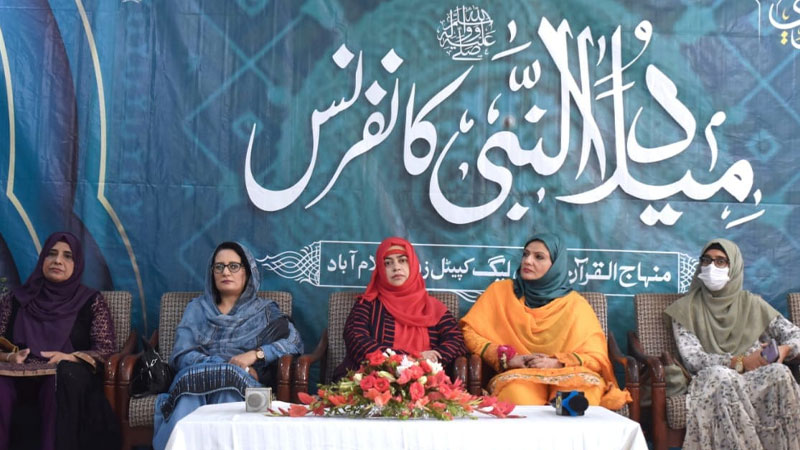 Mawlid-un-Nabi (PBUH) conference held by MWL Islamabad capital zone, brought together a diverse group of more than 450 attendees from various walks of life. This event was organized to welcome the blessed month of Rabi-ul-Awwal and to celebrate the Birthday of Holy Prophet (PBUH). It featured a lineup of distinguished speakers, reciters, and guests, making it a memorable occasion.
Mrs. Fariha Khan delivered an enlightening lecture, sharing valuable insights and knowledge with the audience. Mrs. Nusrat Amin concluded the event with a meaningful ending note, summarizing the importance of the occasion.
Special Guests:
Talat Eizwan Siyal: Advocate Executive Member, Islamabad High Court Bar Association
Dr. Asifa Hashmi: Member of the Central Executive Committee, Tehreek Jawanan e Pakistan
Advocate Shaiya Gulzar Naeemi: President of Ahl e Haram Women League.
Dr. Aqila Asif: Professor, International Relations Department, Comsats University Islamabad.
Moazima Yousaf: Director, NADRA
Maryam Ilahi: Representative from Dunya News.
Azra Akbar: Central Designate MWL
Razia Naveed: Former President, MWL
Mawlid-un-Nabi (PBUH) conference was a resounding success. The event's array of speakers, performers, and guests made it a memorable and spiritually enriching experience for all who attended. This event served as powerful expressions of our love for the Holy Prophet (PBUH). Through heartfelt recitations and acts of devotion, we united to honor and celebrate his (PBUH) noble life, reinforcing the deep reverence and connection we hold for him (PBUH).