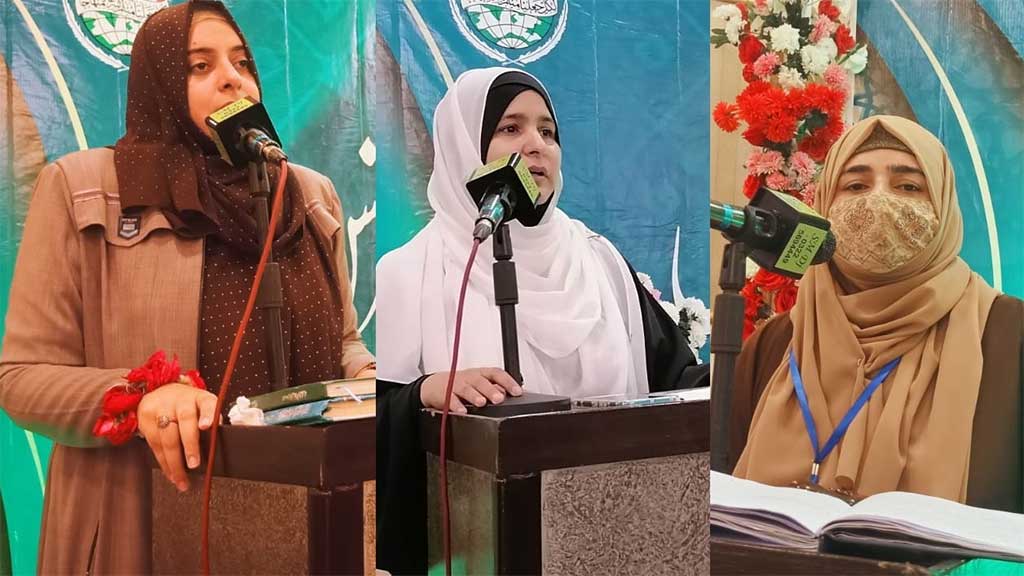 Minhaj-ul-Quran Women League (Gujranwala) arranged a Milad ceremony. Renowned scholar Umme Habiba Ismail delivered a keynote talk on the occasion. Ms. Hurara Bawar presented the opening remarks in which she thanked the participants for sparing time to attend the ceremony. Children belonging to Eagers Department performed in the event much to the acclaim of the audience. Members of Minhaj Naat Council (Wahga Town Lahore) had the honour to recite Naat.
A clip from the speech of Shaykh-ul-Islam Dr Muhammad Tahir-ul-Qadri was shown on the occasion.
In her thought-provoking speech, Ms. Umme Habiba said that the Holy Prophet (PBUH) came to the world as a prophet of mercy. She said the requirement of the love for the Holy Prophet (peace be upon him) is that we study his blessed life and adopt his teachings in our collective and individual life. She said that the only way to outlive this age of mischief, chaos and disorder is to strengthen our relationship with the beloved Prophet (peace be upon him), adding that it was the only way to train and bring up the succeeding generations.
Ms. Hurara Bawar presented a brief introduction of the books of Shaykh-ul-Islam on the Holy Prophet's (peace be upon) Seerah. She also threw light on the aims and objectives of MWL and invited the women to join the organization to learn about their rights and play their role in society.
Ms. Asma Shaheen, a Jamat-i-Islami social worker, said that she is happy to attend the Milad ceremony. She appreciated Minhaj Women League for holding Mawlid-un-Nabi (PBUH) ceremonies, stating that these events are important in terms of educating people about the teachings of the Holy Prophet (PBUH).
A large number of women from Gujranwala district including women political representatives of different parties attended the ceremony.