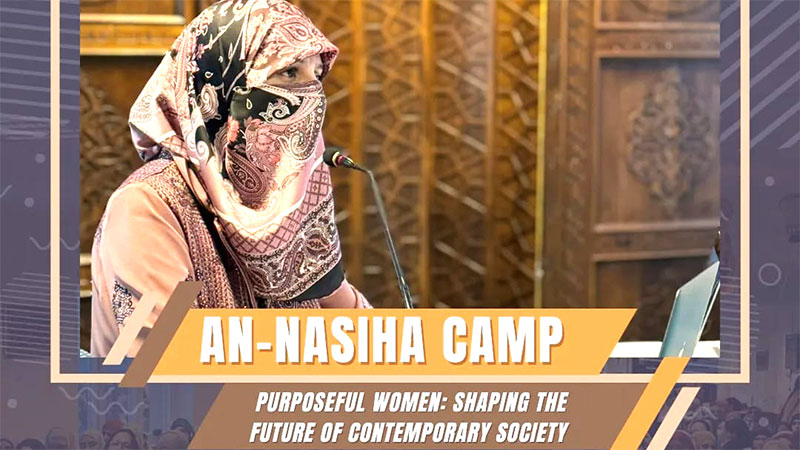 The An-Nasiha Camp, hosted by MWL Oslo, Norway, commenced in which President MWL International Dr Ghazala Qadri delivered a keynote lecture on "Purposeful Women: Shaping the Future of Contemporary Society". She delivered an inspiring lecture during the inaugural session. She emphasized the fundamental purpose and objective of our lives according to Islamic teachings. President MWL also stressed the importance of understanding one's role in society, particularly for women, and how they can contribute to the betterment of the community. Her discourse provided profound insights into aligning actions with faith and fostering positive change.
She said, "We must live a purposeful life that will bring us closer to our ultimate goal, which is the Akhirah (the Hereafter). Our primary purpose is to attain the love, closeness, and obedience of Allah and the Prophet (peace be upon him), and we must remember this every single day, every minute, and every second of our lives. On this journey towards our goal, we are constantly under attack from our Nafs, Shaytan, and the distractions of the Dunya (worldly life). Therefore, we must equip ourselves and vigorously battle against them."
The event was graced by the presence of Sr. Basima Qadri. NEC President MWL Norway Samina Bhatti, General Secretary MWL Norway Iqra Mushtaq Khan, LEC President MWL Oslo Samina Ishaq, LEC President MWL Kløfta Saira Nisar, LEC President MWL Drammen Moeena Iqbal and other senior sisters and members of MWL and Minhaj Sisters Norway also joined the event.
The event fostered a deep understanding of the pivotal role women play in Islamic society and the broader world. Attendees were encouraged to align their actions with Islamic values and contribute positively to society. The discussions centered on empowerment, righteousness, and justice, drawing inspiration from Islamic teachings.