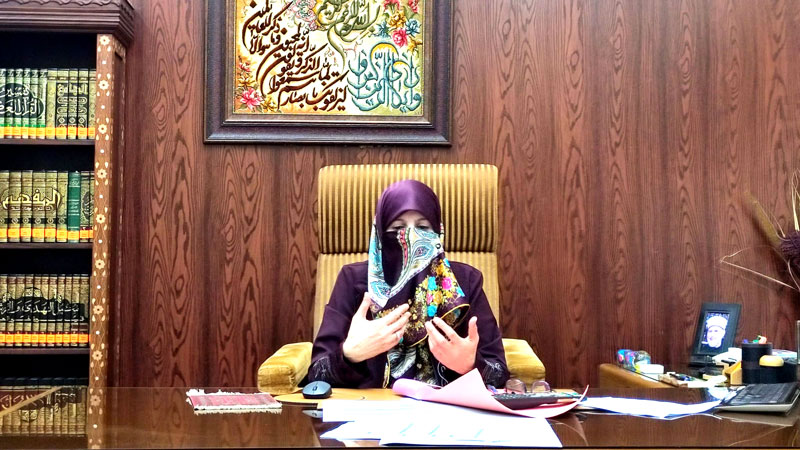 The core team of Minhaj-ul-Quran Women League (MWL) Pakistan held an important meeting under the esteemed guidance of Dr. Ghazala Qadri, President of MWL International. The primary agenda of the meeting was to deliberate over and finalize the critical matters pertaining to the eagerly anticipated "Al-Tarbiyah Camp 2023" in Pakistan.
Dr. Farah Naz, President of MWL Pakistan, led the discussion by presenting a comprehensive overview of the "Al-Tarbiyah Camp 2023." She encompassed the camp's multifaceted objectives and the anticipated impact it would have on the participants.
Following this, Sr. Sidra Karamat, Vice President of MWL Pakistan, shared an intricately designed roadmap for the camp. The roadmap laid out the detailed schedule, the array of enlightening sessions, and the allied pivotal activities.
The central core team of MWL Pakistan, led by Dr. Farah Naz and Sr. Sidra Karamat, actively participated in the meeting, showcasing their unwavering commitment to the success of the camp.
The participation of Nazimaat; Habiba Ismail, Ayesha Mubashir, and Lubna Mushtaq from MWL Pakistan's core team further enriched the discussions, contributing to the shaping of the camp's vision and mission.
The meeting also highlighted the essential role of the social media team, led by Jaweria Waheed, Director of Social Media, and Anshara Naveed, Deputy Director of Social Media, in promoting the event across various social media platforms.