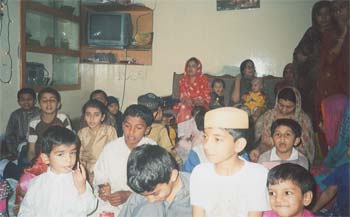 Children are wearing new clothes
Bright colors filled the streets
Their faces full of laughter
Their pockets full of sweets
Let us rejoice indeed
This is the Day of Eid!!!!!!!!!

Date: 14th March 2009
Organizer:
Minhaj-ul-Quran Women League Aziz Bhatti Town. Lahore.
Stage Secretary: Sister Haleema Sadia
Speaker: Sister Fatima Hafeez
Guests of Honor: Mrs. Nazia Sajid (Nazima Aziz Bhatti Town.)
Attandants: 50 children.(age:03 years to 12years)
Alhamdulillah a beautifull Mehfil-e-Milaad was organized in the blessed month of Rabi-ul-awal, by Sisters of Minhaj-ul-Quran Women League Aziz Bhatti Town Lahore, for children. Children were wearing beautiful clothes & it seemed as little angles had filled the whole place.
The Mehfil started with the recitation of The Holy Qura'n by a cute angle Mah-e-Noor who is just 5 years old. Then a number of solo & collective melodious Nasheeds were recited by the children who participated in the Milaad. Their loving voices & attractive way of recitation filled the whole atmosphere with extreem love for our Holy Prophrt Muhammad (peace be upon him).
In the end Sister Fatima Hafeez made a special talk to the children in which she explained the importance of Rabi-ul-Awal to them & motivated them to recite Darood-o-Salam as many times as possible.All the children raised their hands & promised to recite atleast 100 times Darood-o-Salam in their daily routine.
In the end cake was cut & Edi (Eid gift ) was distributed among the children. The beautiful Mehfil ended with special prayers by Sister Marriam Hafeez.
Reported By: Sadaf Iqbal.