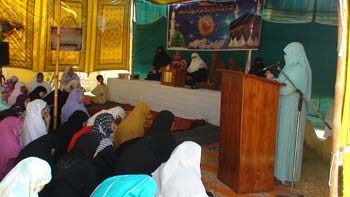 By the Grace of Allah Almighty & the blessings of His Holy Prophet Muhammad (S.A.W.) and the faiz of Shaykh-ul-Islam Prof. Tahir-ul-Qadri ,the weekly Mehfil of MWL Jhelum was held at Bagga Jhelum on Friday, 1th of May 2009. Representatives of MWL from West Colony, Bilal Town, Bagga, Raiya, Chotala, Monun, Saeela, Jada, Kala Gujaran, Janggu, Sangoi, Toor, Dhok Kanyal, attended this Mefil. About 300 women gathered to attend this Mehfil.
This Weekly Mefil is being held on every Friday under the banner of MWL Jhelum for last Five years regularly and is a great contribution of MWL Jhelum to promote ideology of Tehreek-e-Minhaj-ul-Quran in Dist Jhelum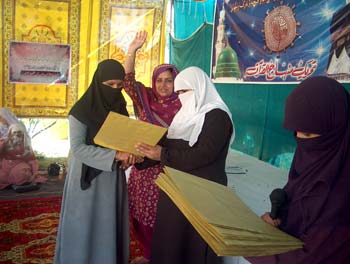 The Mehfil was hosted by Hafiza Shazia Mazhar (President MWL Jhelum Cantt),and started by the recitation of Holy Quran by President MWL Jhelum Cantt and then Irfan-ul-Quran Naat Council Jhelum recited Naats and Nasheeds with Daff very beautifully. The chief guest was Mrs Robina Tahir Ex Principal Govt Girls High School Gujar Khan.
Hafiza Shazia Mazhar (President MWL Jhelum Cantt), gave the remarkable briefing on the new setup of this Mehfil w.e.f next Friday.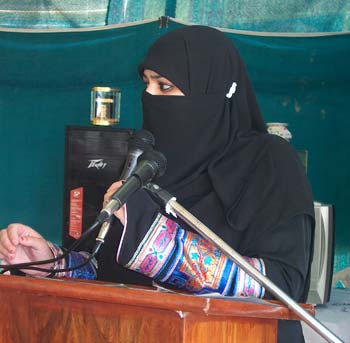 After this Miss Naila Aslam ( Nazima MWL Jhelum ) delivered the lecture on importance of the Halqa-e-Darood and Miss Syeda Nazia Mazhar (member CWC and Incharge Halqa-e-Irfan ul Quran Jhelum) delivered the lecture on the importance of Halqa Irfan ul Quran.
After this Mrs Robina Shaheen (Mualma Irfan ul Quran), Mrs Robina Tahir (Convener MWL Jhelum Cantt) Handover the Life Membership Certificates to 25 Women. More than 250 Membership certificates were handed over also at the end.
A great achievement has been made by a special boy called Bilal. Age 13 years, Bilal obtained his membership through his pocket money which he had saved to buy a BMX Cycle. However after attending these Mahafil regularly he changed his decision and got a life member ship instead.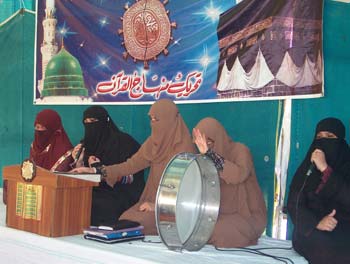 At the end Darood-o-Salam was presented by Irfan-ul-Quran Naat Council, and Syeda Shazia Mazhar (President MWL Jhelum)'s prayer which brought tears in every eye.
After this, CD's of Shaykh ul Islam was shows on the topic of "khuste rasool aur muhabbate rasool", Books, CDs stall and Rafaqat Center also arranged for the participant and as usually.
May Allah Almighty accept our efforts!!!
Ameen.
Reported by: Miss Saima Siddique (Naib Nazima Nashro Ashaat MWL Jhelum Cantt,