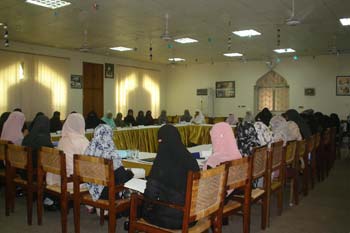 Venue: Conference Hall. Central Secretariat Minhaj-ul-Qura'n International
Timings: 09:00am to 02:00pm
Attendants: Representatives of 45 Tanzimaat
Presided by: Fatima Mash'hadi (President Minhaj-ul-Qura'n Women League)
By the Mercy of Allah Almighty and the blessings of His Holy Prophet Muhammad (P.B.U.H.), on 16th May 2009, at the conference hall, Central Secretariat Minhaj-ul-Qur'an International, a women Mutual Consultation council meeting was held by the Central Minhaj-ul-Qur'an Women League Pakistan. All of the Tanzimaat (sub organizations) came from near and far areas of Pakistan. This session gave an excellent indication of the work done by sisters of Minhaj-ul-Qura'n Women League all over Pakistan, Alhamdulillah!!!
The session commenced with recitation of Holy Qur'an at 09:00am by Sister Sadaf Iqbal (Central Secretary Media & public relations).After sending salutations on the Holy Prophet (P.B.U.H.) and a beautiful Nasheed by Sister Saima Fayyaz (Vice Director), the meeting was conducted beautifully by Sister Fatima Mash'hadi (Central President Women League). She said a warm welcome to all Tanzimaat who were present there and gave a brief introduction of her team to the house. Then a brief introduction was made by each Tanzimaat who presented their names, designations, area or locality etc.
Sister Saima Fayyaz (Central vice Director) presented the working report of the women league to the audience. The whole house appreciated the working of new team. The passion and expressions of the house were worth seeing when they come to know that with the end of this working year a network of 130 Tanzimaat has been organized by the Directorate of Tanzimaat and they are all working in their respective areas.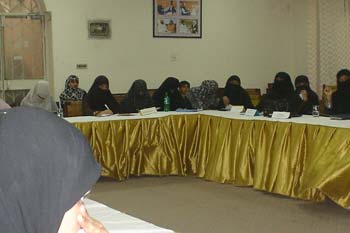 She then briefed the Tanzimaat about the efforts of Directorate of Dawat during the blessed month of Rabi-ul-Awal. She informed everyone that approximately 2500 Milaad-un-Nabi (P.B.U.H.) programs had been held all over Pakistan which is a great achievement of the Minhaj-ul-Qur'an Women League by the Grace of Allah Almighty and His Beloved Prophet (P.B.U.H). Moreover the Qura'n Campaign initiated in Ramadan & a vast network of over 1000 Halqa-e-Darood & 135 Halqa-e-Irfan-ul-Qura'n is in fact a great achievement. Sister Fatima Mash'hadi appreciated Sister Fareeha Khan (Director) and Khadeeja Fatima (vice Director) who worked hard to achieve their targets.
Sister Saima Fayyaz then continued describing about the achievements of the Directorate of Training, Minhaj-ul-Qura'n women league. She told everyone about the different training and learning camps being held at the Secretariat as well as in the field all over Pakistan. She also provided information on the newly designed literature including "Zaad-e-Safar Weekly Report", "Toba-o-Astaghfaar Booklet" and "Zaad-e-Safar Dairy" for the Women League sisters in the field as well as for the Central Women League team. It was no doubt a remarkable effort of Sister Iffat Waheed (Ex. Director) Sister Shazia Shaheen (Ex. Director) and Sister Marriam Hafeez (vice Director). They took the project of CD Exchange and opened 41 CD Exchanges in only 6 months. Alhamdulillah all these efforts and achievements were appreciated by all present there.
She told the sisters about the newly introduced department of M.S.M. (Sisters) and the efforts of Sister Sajida Sadiq (Director). Her working was marvelous and was appreciated highly when the house come to know that she has made 55 conveners and 16 coordinators in various schools and colleges all over Pakistan in a very short time. All these sisters are running 55 Halqa-e-Darood, 03 Halqa Irfan-ul-Qura'n and 21 CD Exchanges.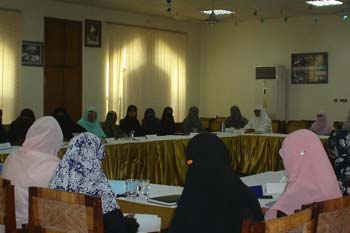 She told the house that a new department of Media and public Relationing has been introduced this month and currently Sadaf Iqbal is working as Secretary Media. Her duties include reporting on Internet and Dukhtran-e-Islam. Making press release and to ensure that it has been published in various newspapers. Sister Anila Illyas is working as Coordinator Event Management Committee. Her duty is to manage every event and decorate the venue.
After central women league's working report presentations, all sisters from the field gave briefing about their working based on their guidance given by the Central Headquarter. This part of the meeting was a great source of inspiration for all those sisters who were present there. An opportunity for questions and reservations was given to all sisters who were clarified by Sister Fatima Mash'hadi (President) and Sister Sumaira Rafaqat (Director).
The first agenda point to be was discussed was the priorities for next working plan. Suggestions and opinions for improvement were conducted by Sister Fatima Mash'hadi (President M.W.L.). She briefed the Tanzimaat about the next working plan. She named the next working year as "Year of Organizational Reinforcement." She said that this year we will stress on "Quality" as well as "Quantity" Insha'Allah. She discussed in detail the suggested working plan which included city wise targets for Halqa-e-Darood, Halqa-e-Irfan-ul-Qura'n, Daroos-e-Qura'n, Milaad Campaign, Qura'n Campaign in Ramadan, I'tikaaf Campaign, C.D Exchange, M.S.M Coordinators, Workers to produce, Workshops, Camps, Courses, Rufaqa'a, Life members, Membership, influential personalities, Opening ceremonies of Shykh-ul-Islam's books and other activities. All the sisters present there gave very good ideas to make it successful. She said that we are lucky to have the unmatchable leadership of the present time. All what we are to do is to spread the message of Hazoor Shykh-ul-Islam. We need not do anything else, only if we will introduce Hazoor Shykh-ul-Islam to anyone, he/she has no other choice except to join this great mission. This discussion lasted until 12:00 pm.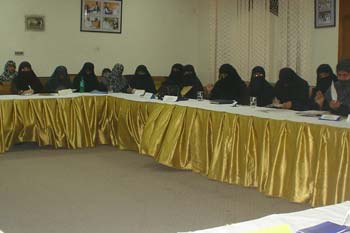 The second and last Agenda point was miscellaneous affairs and was initiated by Sister Sumaira Rafaqat (Director). The house participated actively and gave very forceful opinions and discussed with great passion all the things to make the way smoother for Mustafvi Inqilab. Sister Gulshan Irshad, giving her opinion, said that the pivotal point of the efforts of all workers of Minhaj-ul-Qur'an is the multidimensional personality of Hazoor Shykh-ul-Islam, His eminence, Prof. Dr. Tahir-ul-Qadri. In this era we need to tell people about the efforts of Hazoor Shykh-ul-Islam in the field of Education, Peace, Economics, Welfare, Human Rights, Science & Religion, Moderation and about his achievements worldwide. The Tanzimaat were extremely animated on this point and participated wholeheartedly during this agenda. This agenda point was covered till 1:00 pm.
Sister Sumaira Rafaqat (Director Minhaj-ul-Qur'an Women League) appreciated the work of all of the sisters and Tanzimaat who have worked non-stop throughout Pakistan. She stressed how we should be clear on the thought of the "Mission" and on the thought and dream of Hazoor Shaykh-ul-Islam (Leader of the Mission). She gave a very motivational briefing that the main thought of this mission, the struggle for this mission and the love for this mission are through the hard efforts of Hazoor Shykh-ul-Islam and are all inter-connected and which are part of the successful struggle for this Mission. She said that we need to work on influential and educated people to meet our destiny. She discussed in detail how to present Tehreek to new people and how to invite them to join Minhaj-ul-Qura'n International? She stressed on developing ones own personality. Once again every eye was shining with tears.
Finally Mrs. Fatima Mash'hadi (Central President Women League) spoke very powerful words which had a very enthusiastic effect on all Tanzimaat as always. She commented on how we have a great love for each other, which permeates in us working as a team collectively. All of this and the full participation of the sisters is a result of the thought, efforts and motivation of Shaykh-ul-Islam. Through his lectures and books he has opened up the secrets of the beautiful relationship that exists between Allah Almighty and His Beloved Prophet (P.B.U.H.) and has told us how to aspire to have a similar relationship of love and beauty with Allah and His Rasool (S.A.W.). She then gave some instructions to the Tanzimaat and entertained some miscellaneous questions and reservations raised by the Tanzimaat. The session came to an end by a Duaa led by Sister Fatima Mash'hadi.
May Allah Almighty give us a great love, passion and constancy to devote ourselves truly for this Mission of Islam!!!
Amin Baja he Sayad-al-Mursalin (Sallala ho Alay Ha Wasalam)!!!
Reported by: Sadaf Iqbal.