Protest by Tehreek e Minhaj ul Quran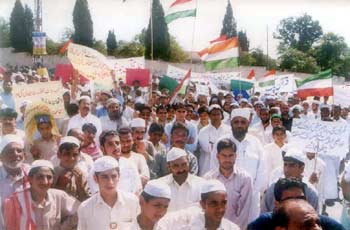 A large protest was organized yesterday against the disrespect of Quran by Tehreek e Minhaj ul Quran in Mirpur. Dr Raheeq Ahmed Abbasi, Nazim e Ala Tehreek e Minhaj ul Quran Safdar Abbas, Shahid Lateef, Sajjid Bhatti were other leaders from the Central Office of TMQ. Khalid Mehmood Qadri, Zafar Iqbal Tahir, Hafiz Ehsan ul Haq and many other local leaders of Minhaj ul Quran were leading the protest.
While addressing to thousands of protestors, Dr. Raheeq Abbassi said that one who does not have reverence for other religions and their Holy Books have no religion. He strongly insisted that strict action should be taken against the irreverents of the Holy Quran.