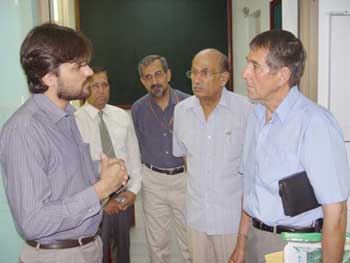 On their arrival at the TMQ secretariat at 365 M Model, Town (Ext) Lahore on 22nd June, 2005 at 10:00 AM, Mr. Jack Guest accompanied by Dr. Saleem Rana, a renowned educationist and BEA`s representative in Pakistan were received and welcomed by G.M Malik, Principal Secretary to Pro Chancellor TMU and Mr. Muhammad Sharif Chaudhry, President Strategic Planning, PAT.
The visiting members of BEA UK were shown different wings of TMQ. Mr. Dawood Mashahdi, Director foreign affairs conducted their visit and gave an excellent briefing about the operational network of MQI in 82 countries in the rest of the world. He also showed them the recording centre fully equipped with the latest operatus. At the sales centre, they were shown the enormous volume of Islamic literature produced by the greatest religious scholar and reformist of his time Prof. Dr. Muhammad Tahir-ul-Qadri.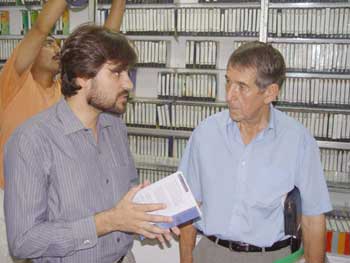 Dr. Nazir Ahmad Rumani, Vice Chancellor of The Minhaj University briefed the delegation in his chamber and also showed them the faculty of IT & other facilities available with them. Mr. Jack Guest was very much impressed to see the most modern education system and facilities at The Minhaj University.
After having a full round of the campus, they went to the presentation Hall where Mr. Muhammad Sharif Chaudhry gave a brief introduction of Mr. Jack and Dr. Saleem Rana to the participants. At the end, Mr. Jack Guest who represented more than 20 top most Universities, Colleges and Schools of UK made a presentation on studies in UK and very intelligently answered the questions and Queries raised by the participants. He further assured them to consider a possibility of collaboration as suggested by Brig (R) Iqbal Ahmad, Chief coordinator TMU. Mr. Jack Guest won a standing ovation from the participants.