Directorate of Interfaith Relations, MQI and National Council for Interfaith Dialogue jointly organized a demonstration outside the Lahore Press Club to protest against the desecration of the Holy Quran at the hands of Pastor Terry Jones. The demonstration was led by G.M. Malik, coordinator of DIR, Father Nadeem, Hafiz Ghulam Farid, Ch Muhammad Afzal Gujjra, and Tayab Ziyya.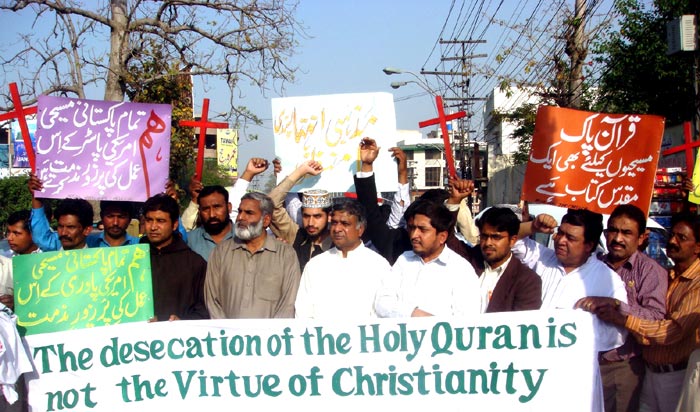 Speaking on the occasion, G.M. Malik said that Pastor Jones injured the feelings of over 1.5 billion Muslims through his act of desecrating the Holy Quran. He said that in view of threats in the past by the Pastor, Shaykh-ul-Islam Dr Muhammad Tahir-ul-Qadri wrote a letter to President Obama, after which this practice stopped. He stated that no law of the world allows anyone to resort to blasphemy of the holy personages and holy books and fundamental human rights have been violated by burning the Holy Quran. He asked the UN, OIC and other world organizations to take strict notice of this heinous act so that none has the courage to repeat such acts in future.
Hafiz Ghulam Farid said on the occasion, the efforts for interfaith dialogue, harmony and tolerance have greatly been damaged by this act of the Pastor. He said that the Holy Quran contains Surahs on Hazrat Maryam (RA), Hazrat Issa (RA) and other Prophets of Children of Israel. Thus the accursed man has burned the Surahs mentioning his Prophet, his respected mother and also committed blasphemy. He said that the likes of Terry Jones are a scar on the face of humanity, who is no less lethal than terrorists. He said that the Christian community of Pakistan has condemned this act.