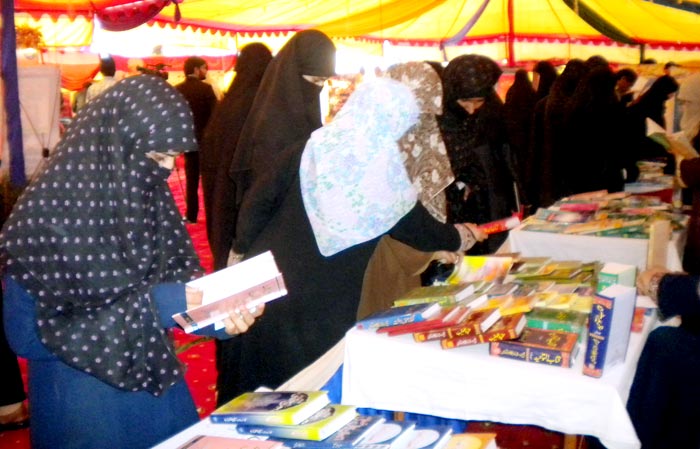 Minhaj-ul-Quran Women League Islamabad organized a grand exhibition of hundreds of books & CDs by Shaykh-ul-Islam Dr Muhammad Tahir-ul-Qadri, in Fatima Jinnah Park Islamabad on 23 April, 2011 in collaboration with WAAG Islamabad. This is the second exhibition which MWL has held to promote the MQI's message of peace and awareness about the scholarly works of Shaykh-ul-Islam Dr Muhammad Tahir-ul-Qadri. The idea was to highlight multidimensional services of Shaykh-ul-Islam dedicated to the cause of Islam, peace, justice, and human rights. Shaykh-ul-Islam, a genius of the century and a light of guidance for humanity for the coming centuries, is engaged in a struggle to convey to humanity the divine message of the Quran from the platform of Minhaj-ul-Quran International. His scholarly contributions include about one thousand books, about 6000 talks and lectures on diverse subjects of modern time. 400 books have seen the daylight while the rest of them are in different phases of printing and production. The exhibition, in this way, was an attempt to capture the attention of the masses through the exhibition.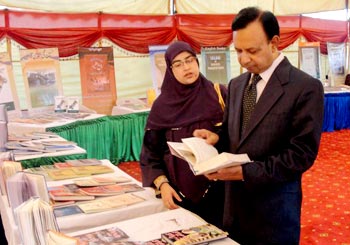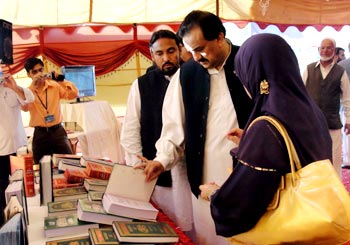 Almost all the printed books were displayed in the exhibition except for those few out of stock, getting into the supply line soon. A rich collection of his talks and speeches on CDs and DVDs also formed part of this comprehensive, rather all-inclusive exhibition of Dr Qadri's works. And the glimpses of his recent activities in the Western world in the form of flexes containing excerpts from his talks could also be seen colorfully displayed and played to the visitors through plasma.
The arrangements were extensive. Mainly, it was the work of Mrs. Razia Naveed President MWL ISD & Mrs. Nusrat Amin Nazima MWL ISD with their team members Sadia Jafar, Sadia Zafar, Mrs. Rubina Sohail, Mrs. Salma, Naila Jafar, Shakira Chaudary & Mrs. Jamila Butt. Hundreds of introductory flexes on steel stands were put alongside the displayed books, and the viewers would know about a book without asking the organizers about it or by giving it a sporadic view. Yet there were members of team, taking their positions beside each table to provide instant information sought by the visitors.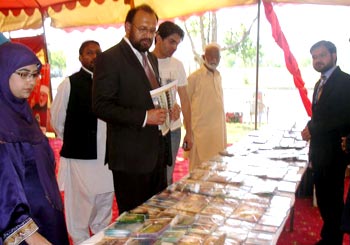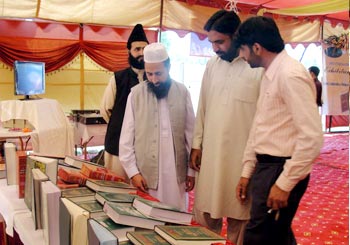 There was a visible cooperation and coordination between the Minhaj-ul-Quran Woman League and Minhaj-ul-Quran International, MSM, Youth League & Al-Azhar Rabta Office. Nazim Tanzimat TMQ Sardar Mansoor Khan specially came to the exhibition & appreciated the effort. Intellectuals, scholars, journalists and educationists thronged the exhibition and the production team recorded their views about the colossal work of Shaykh-ul-Islam Dr Muhammad Tahir-ul-Qadri. They included people like Sarfraz Ahmad Sayyid (Advisor to Federal Ombudsperson), Fakhar Zaman Adil (President TMQ Dubai), Raja Zia-ul-Asghar (Bureau Chief News 5), Sayyid Irshad Hussain (IG Police NPB ISD), Qari Ubaid Ahmad Satti (Nazim-e-Ala Jammat Ahl e Sunnat), Shafaqt Mehmood (Secretary General WAAG Pak), Sikandar Riaz (Addl. Chief Sec. AJK Rt) Dr. Naeem Mushtaq (Islamabad Club) & Haroon-al-Rasheed (Columnist). A large number of people from general public and thousands of girl students from various colleges and universities visited the exhibition and showed great interest in learning about Minhaj-ul-Quran International and Shaykh-ul-Islam Dr Muhammad Tahir-ul-Qadri.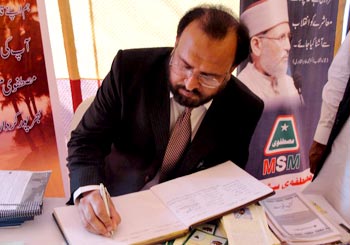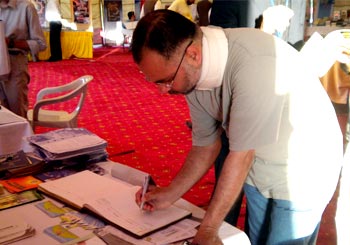 This grand exhibition of hundreds of books and thousands of lectures by Shaykh-ul-Islam Dr Muhammad Tahir-ul-Qadri is a tribute to his historical struggle launched all over the world to promote the cause of Islam, peace and human rights. His books and lectures contain his message for the entire humanity. And the message is "Let us enlighten this world through the light of knowledge". President MWL & General Sectary WAAG ISD Mrs. Razia Naveed gave the message that Women League is a platform to generate effort among the womenfolk in right direction and eliminate ignorance, poverty and legal lacuna to restore gender equality, justice and peace in human society. Our main emphasis, she said, is towards the betterment of masses on social, cultural, and religious footings to enlighten them with the knowledge of their rights and duties and to present a realistic, rational and scientific picture of Islam.
At the end, Secretary Women League ISD Mrs. Nusrat Amin welcomed all the guests and participants and thanked all those who cooperated in organizing the activity. She especially thanked Mr Abrar Raza Advocate, Mr Ahmad Zulqarnain, Mr Qasim Mirza, Mr Sohail Abbasi , Mr Qari Ayyaz, Mr Adil & Mr Khuram for doing a marvelous job in their respective capacities to make the exhibition a success.