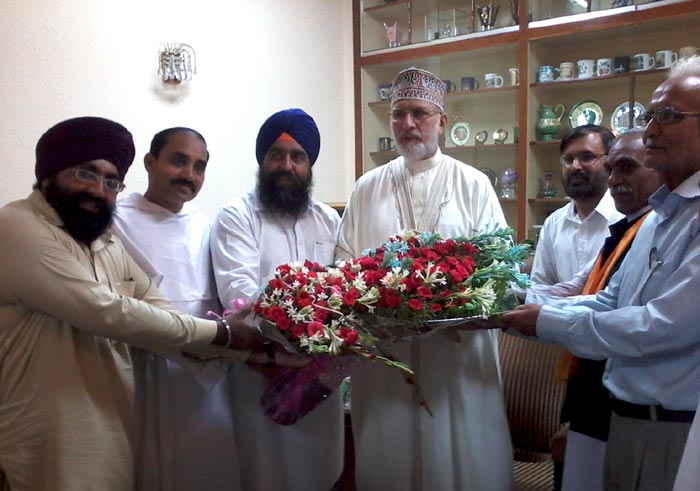 Sikh leader Sardar Bashan Singh has said that Dr Muhammad Tahir-ul-Qadri is engaged in a struggle for promotion of interfaith dialogue, harmony, and respect, culture of tolerance and upholding of human rights. He said that the chief manifestation of this is the Peace for Humanity Conference held in Wembley Arena in London under the banner of MQI in which key faith leaders prayed as per their distinct religious teachings. He said that Dr Qadri is waging a real struggle for rights of followers of different faiths in the world in general and Pakistan in particular.
The Sikh leader expressed these views at the head of an interfaith delegation that called on Dr Tahir-ul-Qadri at his residence yesterday to greet him on the occasion of Eid. In addition to Sardar Bashan Singh, other members of the high-powered delegation included Hindu leader Pundit Bhagat Lal, Christian leader Father Pascal, Yousaf Bijnori and Sardar Tranjeet Singh. Sohail Ahmad Raza, Director of MQI's Interfaith Relations, was also present on the occasion. The faith leaders congratulated Dr Tahir-ul-Qadri on Eid and also gave him a bouquet of flowers.
Speaking on the occasion, Hindu leader  Pundit Bhagat Lal said that the followers of all religions hold Dr Tahir-ul-Qadri in high esteem. He said that Dr Qadri is building bridges among different religions, cultures and civilizations with his focus on shared values which knit the humanity together. He said that none would be able to hinder these efforts from creating unity, harmony, love and mutual respect among various religions.