Dr Muhammad Tahir-ul-Qadri, the founding leader and patron-in-chief of MQI, has said there is a raging need to spread love in the world confronted with numerous challenges. He said that thorny bushes of terrorism and militancy would have to be weeded out and the seeds of the flowers of respect, peace and love would have to be sown at their place. He said that Islam has endowed humanity with the wealth of respect and tolerance that guarantees protection of rights of all people on planet earth irrespective of any discrimination. It entrusts societies with the responsibility of fulfilling rights at individual and collective levels. He said that by describing the respect for humanity as mandatory for every society, Islam has provided a complete protection for all sets of people from infants to the old ones so much so that the rights of those who passed away from the world have also been secured and their strict observance sanctioned.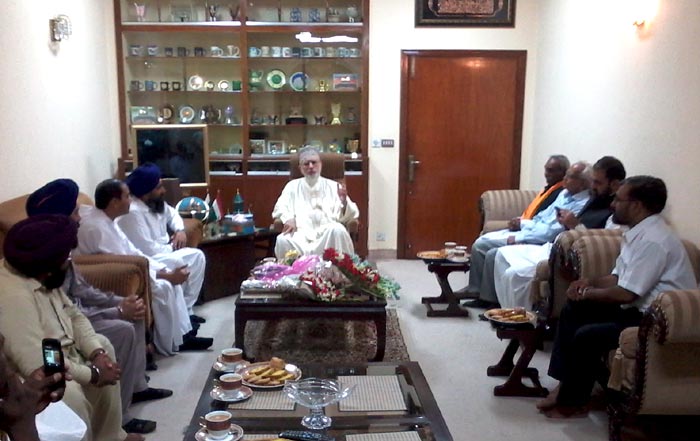 Dr Muhammad Tahir-ul-Qadri expressed these views while talking to a delegation of non-Muslims that called on him at his residence in Model Town the other day on the occasion of International Day of Humanity. Sohail Ahmad Raza, Director of MQI's Interfaith Relations Directorate, was also present on the occasion.
Dr Tahir-ul-Qadri said that Islam conferred equal rights on women who traditionally remained victim of exploitation, disempowerment and oppression for centuries and made her an equal member of society having similar status as their male counterparts. He said that Islamic values revolve around respect of humanity. He said that respect of humanity has been given preference in every walk of life.
Dr Tahir-ul-Qadri said that the religious community should end dichotomy between their actions and words and that they should become the fountainhead of good and welfare for humanity. He said that MQI's message is based on respect for humanity and its workers have been trained in such a manner that their actions and words do not harm anyone's feelings and emotions. He said that one of the reasons as to why MQI's message got global acceptance was the fact that it did not discriminate amongst people and left no stone unturned to spread love, peace and interfaith harmony.