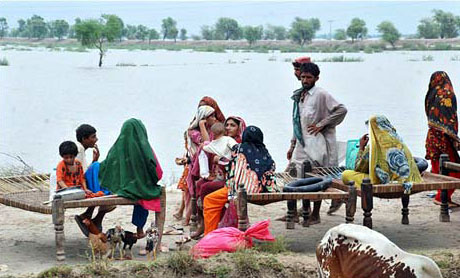 Sheikh Zahid Fayyaz, Secretary General of MQI, has directed Minhaj Welfare Foundation to leave no stone unturned in carrying out relief and rehabilitation operations for the flood victims. He asked the MWF volunteers to speed up the relief work as the flood affectees were facing enormous difficulties under the open skies in this hot and humid weather. He said that MQI stood by the affected brothers and sisters at this hour of great trial and tribulations. He said that immediate rehabilitation of the flood affectees was the topmost priority of MWF, adding that the entire nation should get together to face the natural calamity of flood with patience and courage.
MQI's Secretary General expressed these views while talking to heads of Flood Relief Committees constituted for extending help to the flood victims at the central secretariat the other day. Director MWF Sayyid Amjid Shah, Khurram Shahzad, Ahmad Moin, Sajid Mahmood Bhatti, Irshad Tahir and others were present on the occasion.
Sheikh Zahid Fayyaz said that it was not correct to describe rains as instantaneous calamity as they had long been predicted by the MET Office. He said that destruction wrought by flood and incessant rains was caused due to lack of proper arrangements in advance by the provincial and federal governments. He said that those at the helms did not learn any lesson from the past flood experiences and did not work out any preemptive strategy to deal with the calamity. He said that no flood mitigation policy was in sight as the rainwater continued to develop into destructive flood. He bemoaned the fact that government's relief operations were more of photo ops and PR exercise than effective relief-oriented exercises aimed at reducing the sufferings of the people. He said that had the government mobilized all resources on time, the flood victims could not have faced as many difficulties as they did in the absence of any leadership from the government.
Sheikh Zahid Fayyaz underlined the need of expediting the relief work so that those displaced by flood could be rehabilitated at the earliest. He said that MWF, on the special instructions of Shaykh-ul-Islam Dr Muhammad Tahir-ul-Qadri, would continue to carry out relief operations till complete rehabilitation of the flood victims. He asked the MWF volunteers to dedicate themselves wholeheartedly for the service of the suffering humanity. He appealed to the affluent people not to depend on the governments but step forward to extend help and support to those in dire need of it. He also appealed for mass scale participation of the resourceful people in relief and rehabilitation efforts.