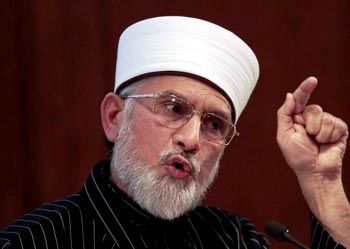 PAT leader Dr Muhammad Tahir-ul-Qadri has strongly condemned the brutal bomb blast in historic Qissa Khawani bazaar in Peshawar on Sunday in which 42 innocent people were killed and dozens of others were critically injured.
In condemnatory statement, Dr Tahir-ul-Qadri said that killing of over 100 people in a span of week in Peshawar showed how real and daunting the challenge of terrorism was in the country. He said that the government had failed completely in checking the incidents of terrorism. He said that confusion in the government circles was more than manifest, which emboldened the terrorists to go on killing spree. He said that the stepped-up terrorist activities in KPK in particular and the country in general demonstrated that the militant organizations wanted to put more pressure on the government to be able to dictate their agenda ahead of crucial talks if at all they are held.
Dr Tahir-ul-Qadri said that those who killed innocent human beings in merciless violence in Peshawar and elsewhere were barbarians who deserved no mercy as they were a blot on the face of Islam and Pakistan. He said that these elements had nothing to do with Islam as their actions were contrary to what Islam propagated.
Dr Qadri prayed to Allah Almighty to rest the departed souls in peace and give patience to the bereaved families to suffer the loss of their near and dear ones.