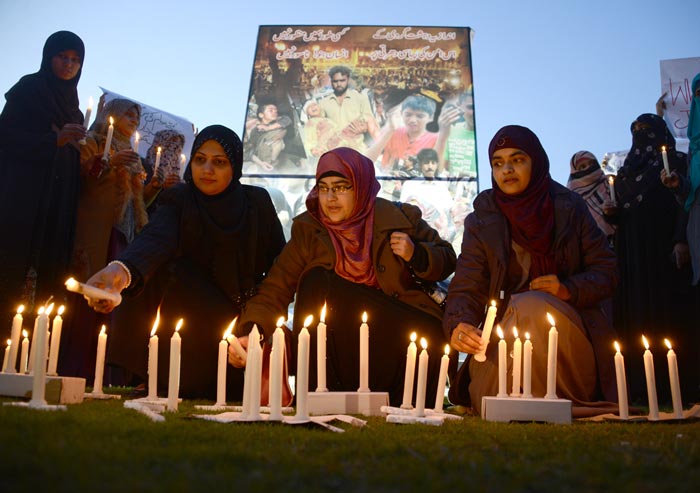 A prestigious memorial ceremony was organized on Monday under the banner of Pakistan Awami Tehreek (women wing) to pay tribute to and express love and devotion for the martyred security personnel, innocent children and citizens at large. The event was held at Liberty Square, Lahore. The hundreds of women attended the candle vigil and laid floral wreath to express gratitude of the nation for those who laid down their lives for their motherland and its people.
Addressing the ceremony, PAT (women wing) central leader Mrs. Razia Naveed said that by killing flower-like children, the terrorists gave the message to the nation in no unmistakable terms that they were stone-hearted. He said that the entire nation needed to forge unity in their ranks and get ready to take on the beasts. She said that the living nations remembered their martyrs and held their sacrifices in the highest esteem. She said that mothers, sisters and women of Pakistan stood behind their armed forces and paid glowing tributes to the martyrs for their exemplary sacrifices. She made it clear that the terrorists did not deserve any concession and their elimination was inevitable for peace of the society.
Mrs. Razia Naveed said that it was about time that the government took some decision to put an end to terrorism in the country. She said that the armed forces had the backing of the nation in their fight against the terrorists. She said that the terrorists were the worst enemies of Pakistan and Islam, adding that they mercilessly shed blood of the children, the elderly, security personnel, journalists, religious scholars, women and even worshippers. She said that the terrorists brought an irreparable damage to Pakistan which would need decades to reverse and control it. She said that if the rebels accepted the writ of the state, supremacy of the Constitution and law and laid down their arms, they could be engaged in talks, adding that those who did not do so should be dealt with iron hands. She said that there was a limit to patience and endurance, asking as to how long the nation would continue to bear with the situation.
MSM President Hina Amin, Ayesha Shabbir, Sania mazhar, Nabeela mazhar and others were also present at the occasion.
In her remarks, Hina Amin said that the armed forces were responsible for territorial defence of the nation in the worst of climates such as Siachen etc. She said that those who launched attacks on the armed forces were cowards. She said that PAT (women wing) condemned all acts of terrorism, violence and target killing. She said that today's ceremony was organized to pay tributes to the personnel of the armed forces and police who laid down their lives in the line of duty. Special prayers were held for the martyrs at the occasion.